There is a new view from the bottom of the long gallop that sits in a picturesque corner of Pembrokeshire in west Wales.
On the horizon is a stunning family home built after many decades of hard work. Underfoot there is a new surface. Gone is the old sand and now there is a thick, bouncy layer of shredded carpet. It feels like you are walking on a cloud. And the round gallop has also been reworked. No wonder there are plenty of smiles as Peter Bowen's string gleams and looks a picture of health in the strong autumn sunshine.
The stats don't look too bad either. Last season there were 64 winners for the Bowen team – of which wife Karen, star rider sons Sean and James and talented point-to-point trainer son Mickey are an integral part. That's nearly double the tally from 2015-16, and the totals have been steadily creeping up year on year.
Although there haven't been any winners in the last few weeks to add to the 17 on the scoreboard from the summer, the squad of around 60 horses is fit and healthy and there are a host of youngsters coming through the ranks.
"I wouldn't mind ten like this every year," says Bowen, 61, as he watches Flat recruit Orsino flying the schooling fences for fun. And there are newcomers ready to roll too, a couple of whom have their trainer thinking of Aintree in the long term.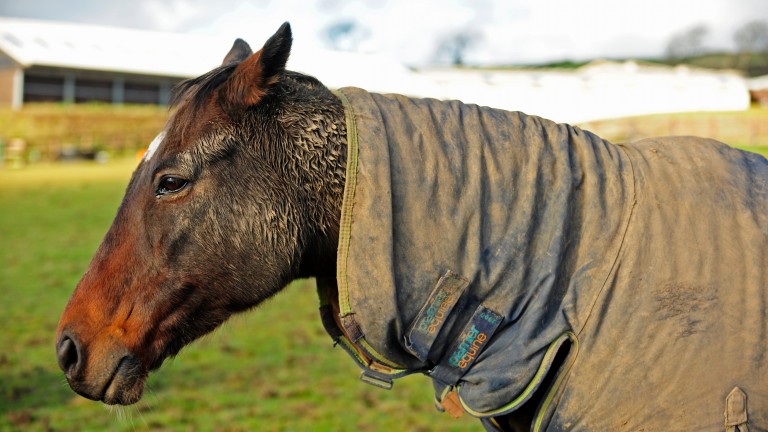 Perhaps one of them will win over the big fences, like old favourite Always Waining managed to do with three consecutive victories in the Topham Chase. He's 18 now but still full of beans as he struts around the paddock at the top of the gallops, enjoying life in retirement and keeping an eye on the next generation of talent.
---
Stable profile
Yard Yet-Y-Rhug
Where Little Newcastle, Pembrokeshire
Assistant trainers Karen Bowen, Mickey Bowen
Head girl Emma Rees
Jockeys Sean Bowen, James Bowen, Tom O'Brien, Jamie Moore
Started training 1995
Horses in yard 60
Members of staff 20
Yard manager Claire Lewis
Secretary Viv Prior
Website peterbowenracing.co.uk
Twitter @Peter_Bowen_
Stable sponsor Peter & Karen Bowen Racing
---
Winners in Britain
2018-19 64
2017-18 52
2016-17 40
2015-16 33
Profit/loss to £1 stake
2018-19 -10.62
2017-18 -18.65
2016-17 -60.11
2015-16 -84.96
---
Prize-money 2018-19
£717,639
---
Alf 'N' Dor
Pedigree: 8g Flemensfirth (sire) – Greenflag Princess (dam)
Owner: The Hedonists & Karen Bowen
Form: 41-39P4
Racing Post Rating: 118 chase
Official rating: 104 chase
He'd been racing with his head very high and the vet has given him a kissing spine operation. If that does the trick there will be more handicap chases to be won with him when he returns from a little break.
Apple Bank
5m Apple Tree – Elfailwen
Karen Bowen
67 (point-to-point)
RPR – OR –
She had two runs in point-to-points for Mickey [Bowen] but has matured a lot since. She's from a decent family and should be able to win some handicap hurdles down the line. She runs on Friday in the bumper at Ffos Las and will come on for the experience. 
Beggar's Wishes
8g Oscar – Strong Wishes
Roddy Owen & Paul Fullagar
149537-
RPR 152c OR 138c
He hasn't been right for a while but he's back on song now and I think he's on a mark from which he can win a decent handicap chase. I haven't got a plan for him but he's going very well. 
Colby
6g Witness Box – Wet And Dry
Mrs N Unsworth
27F-PF8
RPR 106h OR 105h
He came to us in September and fell at the last in a handicap hurdle at Wincanton on his first run for us. I think he would have finished in the first three that day. He schooled well on Monday and was up there for a long way at Chepstow on Wednesday. There's a good chance he could go chasing this season.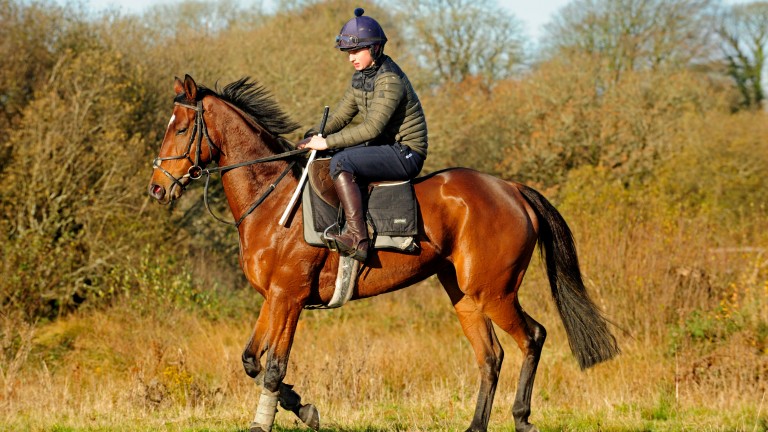 Cougar's Gold
8g Oscar – Top Her Up
Einsley Harries 
414-2UP  
RPR 124c OR 115c
Although his most recent form figures don't look great, I think he's been unlucky the last twice. Although it might have looked as though he was going backwards when he unseated at Wetherby, James [Bowen] said he had come back hard on the bridle after making a mistake, but then a horse ran right in front of him. We probably shouldn't have raced him just eight days later at Ffos Las, so that run is best ignored. Soft ground isn't a problem and there are two or three more handicap chases to be won with him.
Dalkingstown
5g Malinas – True Rose
Roddy Owen & Paul Fullagar
11(ptp)-1522
RPR 107b OR –
He's a two-time winning pointer, won one of his four runs in bumpers and should do well over hurdles. We'll give him a break for another month or two and get him out again when the ground dries up as he can't go on soft. He'll be a lovely novice hurdler on good going.
Dr Robin
9g Robin Des Pres – Inter Alia
Peter Bowen Racing Club
51111P
RPR 127h 127c OR 128h 123c
We were delighted to win four races with him last season – three at Cartmel. Hurdles and fences come alike to him and he just keeps on improving. He was over the top by the time he ran at Warwick on his final start so you can ignore that. He'll be back in the early spring.
Equus Dancer
5g Jeremy – Celtic Cailin
Roddy Owen & Paul Fullagar
F/5411-3
RPR 115h OR –
He's a dual bumper winner and a very smart horse. He showed a fair bit at Carlisle this month when making his hurdles debut and will come on for that run. The form of the race is starting to look good as the one who finished fourth has already come out and won. We're thinking he'll go back to Carlisle on December 1.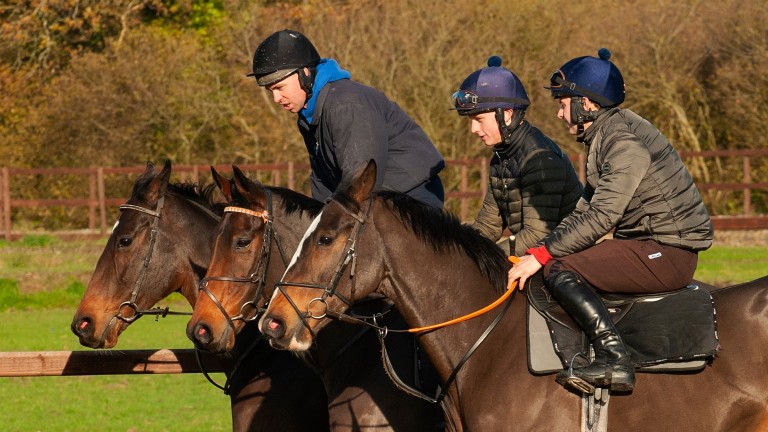 Francky Du Berlais
6g Saint Des Saints – Legende Du Luy
Roddy Owen & Paul Fullagar
224353
RPR 125h 126c OR 117h 117c
He's been a little disappointing but we schooled him in blinkers on Monday and he'll wear those at Ffos Las on Friday in a 2m6f handicap hurdle. We've tried him over hurdles and fences and over all sorts of trips – from 2m1½f to 3m1f – but none of it seems to make any difference as he runs to the same level every time, so we're hoping the headgear does the trick.
General Malarkey
7g Scorpion – Andreas Benefit
Baker, Dodd, Cooke & Heler
P8/79-7P
RPR 86h OR 80h
He came to us last season from Nigel Twiston-Davies but he's been very frustrating. He almost fell at the first fence on his chase debut this month before pulling up and he can only improve. I'd love to win a race with him.
Henllan Harri
11g King's Theatre – Told You So
Einsley Harries
2P35-59
RPR 136c OR 120c
He won the bet365 Gold Cup at Sandown in 2017 but has managed to win only one race since. He's been off but is ready to start back now and doesn't look too badly handicapped. I shouldn't think he'll be able to reach the heights of before but there could be a race or two in him again. I imagine he'll be back on a racecourse in January with a view to running on better ground in the spring.
Judge Earle
7g Court Cave – Louis's Teffia
Gwilym J Morris
07-012P
RPR 118h OR 114h
Consistent hurdler who'll make a nice novice chaser. He came back from Newton Abbot in the summer quite sore so we're giving him some time and we'll bring him back in the spring.
Lermoos Legend
4g Midnight Legend – Absalom's Girl
Jonathan Martin
54
RPR 88b OR-
He's had a couple of runs in bumpers and goes for a 2m novice hurdle at Ffos Las on Friday. He comes from a good family and could be a handy hurdler once he's handicapped.
Lord Bryan
8g Brian Boru – Run Cat
Miss Jayne Brace & Gwyn Brace
71-P52P
RPR 129c OR 126c
He ran in a handicap hurdle over 2m7½f at Chepstow on Wednesday and we've got him entered in the Becher and Grand Sefton Chases next month in the hope he gets into one of them. He's a very good jumper and I can see him being suited by Aintree. He's run mainly in small fields but he likes to run from the front, he's a strong traveller and a bigger field wouldn't bother him.
---
Star quality
Lord Napier
6g Galileo – Jacqueline
F Lloyd
63165-P
RPR 148h OR 144h
He's a classy hurdler who'll come on plenty for his comeback at Wetherby this month. Although he's got plenty of decent form on soft ground, the surface there was too much for him and it had been raced on the day before as well. I've got my eye on a 0-145 handicap over 3m at Newbury on November 29 for him.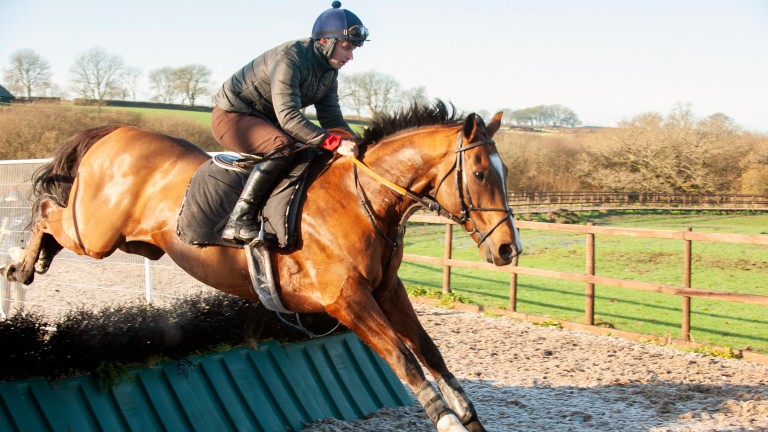 ---
Mac Tottie
6g Midnight Legend – Tot Of The Knar
Steve & Jackie Fleetham
31118-P
RPR 134h OR 132h
He pulled up at Ludlow in May on his first start over fences having previously won four times over hurdles. He picked up a little injury which explains his performance there, but the time off will have helped him and he can develop into a decent chaser.
Minella Daddy
9g Flemensfirth – Old Moon
Roddy Owen & Paul Fullagar 
06U1-12 
RPR 148c OR 137c
He's a smart staying handicap chaser who's on a break at the moment while we wait for better ground. He did well in spring and can win more races.
Montanna
5g Notnowcato – Asi
F Lloyd
1158-3
RPR 119h OR 118h
He ran quite well recently in a handicap hurdle at Ffos Las on his first start for 11 months. He had a hard race there but I was pretty pleased with that performance and he should take a bit of beating next time out. When we first started with him as a novice hurdler he didn't jump too well but he's superb now and we'll take him over fences at some point.
More Buck's
9g Presenting – Buck's Blue
P Duffy, D Semmens, V Williams & M Bowen 
5-6P545 
RPR 141c OR 127c
He's on a break until the better ground returns. He won the Summer Plate at Market Rasen in 2018 but the handicapper has been a bit harsh on him more recently. Once he's back down to his right mark he'll be winning again.
---
Dark horse
No Quarter Asked
4g Jeremy – Louis's Teffia
Roddy Owen & Paul Fullagar
2-4
RPR 101b OR – 
He finished second to our Equus Dancer at Perth in April and we bought him straight away from Stuart Crawford. We've run him only once so far and he did better than his finishing position might suggest in that Southwell bumper – he was travelling really well turning in when he nearly got brought down. He's a really nice horse.
---
Orsino
5g Galileo – Birmanie
Peter Bowen Racing Club
3/20-053 (Flat)
RPR 80f OR 68f
Winner on the Flat for Andrew Balding and a handy recruit to the yard. He's been schooling well and could develop into a decent summer jumper over hurdles next year once he's handicapped. We might run him on the Flat as well.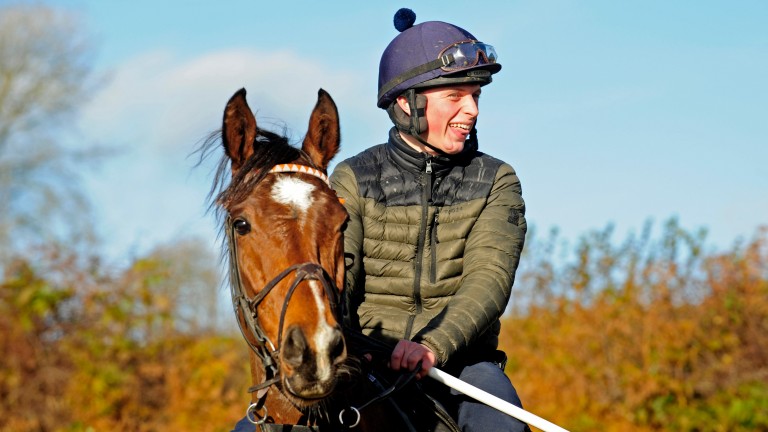 Shareef Star
4g Sea The Stars – Gotlandia
F Lloyd
42-7129 (Flat)
RPR 92f OR 87f
He was a winner on the Flat for Sir Michael Stoute. We bought him and decided to give him a complete break as he's been on the go for a long while. We're looking forward to him – he could be quite decent over hurdles.
Souriyan
8g Alhaarth – Serasana
Gwilym J Morris
511P-64
RPR 132c OR 127c
He's been a bit difficult to train. We were going to run him more over the summer but he had a couple of runs and then got injured. He's moving well again, has been schooling decently and is ready to go in handicap chases. Once the ground firms up a little he'll be able to win a couple of more races.
Statuario
4g Helmet – Cat Hunter
Mrs N Unsworth
281-324
RPR 118h OR 122h
He's with us again for the second time now. He's on a break for a few months with a view to running at the backend of the season. His mother is a sister to Charbel and he could be interesting over fences. 
Trumps Benefit
6g Beneficial – Balla Black
CP Civil Engineering UK Ltd
43P212
RPR 104c OR 99c
He's another having a rest and he'll catch the backend of novice handicap chasing on better ground. His rating looks workable and we're looking to win with him again.
Well Said
9g Talkin Man – Ashpark Rose
Miss RL Bryan
3961P-9
RPR 113h OR 113h
He might have beaten only three horses home at Chepstow recently but that was his first run for 461 days and he showed plenty of promise, doing everything we wanted. He jumps well, he's a point-to-point winner and should be a lot straighter next time.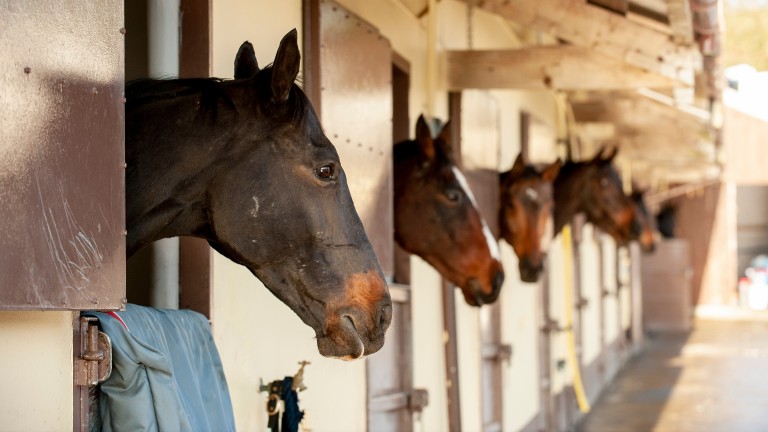 ---
Unraced horses
Courtland is a really nice three-year-old. He's well bred by Court Cave and will run in a bumper soon, probably at Exeter on December 6. He's then likely to race in a second bumper before going over hurdles but he's definitely a long-term chaser and is very smart. He's had a racecourse gallop at Ffos Las and he's worked at Lambourn, so he's ready to go.
We've got an unnamed relation to our bet365 Gold Cup winner Henllan Harri and from the family of Silver Birch. He's coming along nicely and is another to look forward to.
Drift Rock is a lovely horse. He's related to 1983 Grand National winner Corbiere and has the same owners as Esha Ness who came home in the front in the void National of 1993. He's been bought with the hope that he might one day become an Aintree contender. He's been working well, will want soft ground and could make his debut in a bumper on December 7.
We like Get A Star. He's by Getaway out of a sister to Oscar Time who finished second and fourth in the Grand National, and he's full of promise. He has the same owner as Drift Rock, and Aintree one day would be the dream.
---
Race in focus
"We love going over the National fences and the Topham is a special race for us having won it three times with Always Waining. Lord Bryan will get an entry this season, and he's in the Becher, too."
Two for the tracker
"Equus Dancer should be winning races over hurdles for us soon while Drift Rock has been working well and has a bright future."
---
Expert View
The received wisdom is that Peter Bowen is the king of summer racing, who hibernates when the biggest names come out to play.
There is a lot of truth in that reading, but it would miss some vital context. Bowen also enjoys plenty of success in the spring, when his horses might just be coming right while others are ready for the summer off. Think of some big-race winners from the yard and your mind will surely be drawn to Scottish Nationals, Tophams and bet365 Gold Cups.
As that implies, it is Bowen's chasers who demand the greatest attention and strike-rates bear this out. He has sent out slightly more chasers than hurdlers in recent seasons, which would be quite rare in the training ranks, and has recorded nearly 50 per cent more winners over fences in the same period. While he talks warmly of his promising youngsters, it is likely we will have to wait a couple of seasons before seeing them thrive over fences.
A staying chaser in the yard who has always appealed as a talented sort is Minella Daddy, who has had quite a few breaks in his career and could need careful management. He did a bit of winning in the spring at bigger tracks and is now rated 137. He goes well fresh so expect to see him primed for a reasonable-sized target first time up, but it seems unlikely that will be near to hand.
Another one of the yard's best performers, who is more obviously well handicapped and likely to run in the winter, is Beggar's Wishes. Like many from the yard, his winning has been done in spurts but plenty of it has been on testing ground. The positive reports from his trainer mean he is very much one to look out for once reappearing.
Of course, one of the major advantages afforded to the yard are a couple of homebreds, named Sean and James. Both have jobs elsewhere, and it remains to be fully tested how Sean's official appointment as Harry Fry's stable jockey affects how often he can ride for his father in winter. He is particularly potent in small fields and on horses in need of strong handling, which comes into play all the more in the summer.
Keith Melrose