Jackdaws Castle is in the midst of a transitional period, with a raft of youngsters boasting exciting pedigrees drafted in to replace many of the old guard who served the stable so well for many years.
Consequently it would be unwise to expect any major fireworks this season but the recruitment process has been a rigorous one and there is certainly a spring in Jonjo O'Neill's step as he sets about bringing the glory days back to one of Britain's finest training facilities.
"Some of the babies aren't going to win this season but it's about keeping them happy and educating them for the future," says the Gold Cup and Grand National winner.
"You can dream and, while it might not be straight away, it's exciting for next year and the one after that. They're fit, well and healthy at the moment and, if we can keep them like that, we'll be happy."
The stable is strongest in numbers in the four-year-old division and it is worth keeping a close eye on these young guns with the future in mind.
As for winners in the short term, Cloth Cap and Sky Pirate showed glimpses of what they may be capable of last season and are highly regarded. They appear to be fairly treated and it should pay to follow both as they work towards some exciting targets as the season progresses.
---
Stable profile
Yard Jackdaws Castle
Where Temple Guiting, Cheltenham
Started training 1986
Horses in yard 100
Members of staff 40
Assistant trainer AJ O'Neill
Head lads Johnny Kavanagh & Alan Berry
Travelling head lad/lass Harrison Day & Jojo O'Neill
Racing manager Joe O'Neill
Racing secretary Jade Aspell
PA & events co-ordinator Clare Bowring
Accounts secretary Cath Plumstead
Groundsman Federico Bazan
Jockeys Richie McLernon, Gavin Sheehan, Alain Cawley, Will Kennedy & Adrian Heskin
Conditionals Jonjo O'Neill jnr & Ed Austin
Amateur AJ O'Neill
Stable sponsor The Wasdell Group
Website jonjooneillracing.com
Twitter @JonjoONeill
---
Winners in Britain
2018-19 56
2017-18 64
2016-17 78
2015-16 81
Profit/loss to £1 stake
2018-19 -£63.04
2017-18 -£198.26
2016-17 -£214.33
2015-16 -£114.49
Total prize-money 2018-19
£639,240
---
Adicci
Four-year-old gelding 
Shirocco (sire) – Lughnasa (dam) 
Owner: Mrs Siobhan McAuley
Form figures: 232
Racing Post Rating 114b Official rating –
He's a grand horse and ran another cracker when just touched off at Uttoxeter. He has plenty of size about him and we'll crack on over hurdles now, probably over 2m4f. He's a galloper, jumps well at home and is going in the right direction.
Annie Mc
5m Mahler – Classic Mari
Coral Champions Club
24151-
RPR 143h OR 140h 
All she did was improve last season but it's a lot to expect her to do the same again, which is why we're going over fences. She jumped her hurdles like fences and really enjoys jumping, so she has potential and has schooled well. She'd probably get 3m but we'll start her over 2m4f in the near future.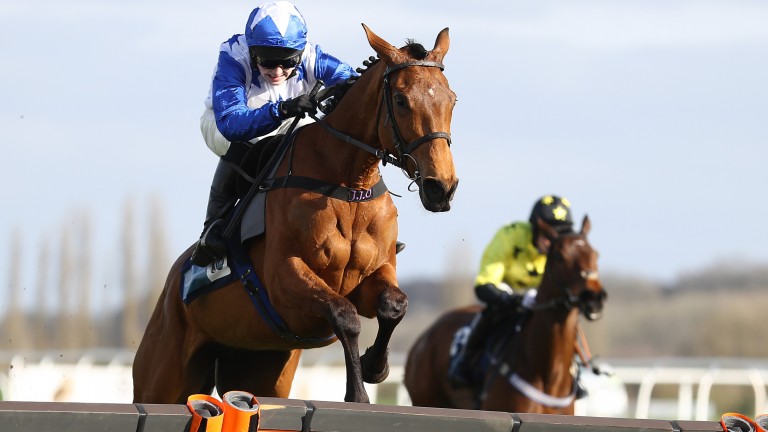 Arrivederci
4g Martaline – Etoile D'Ainay 
Martin Broughton & Friends 1
14-37
RPR 112h OR –
I was pleased with his comeback at Warwick but he did a bit too much through his race at Chepstow last time and we'll look to drop back to 2m. We think a lot of him but he's still a bit weak and needs to learn to settle a bit more. He's one to look forward to as he develops.  
Carys' Commodity
4g Fame And Glory – Native Sunrise
Mrs Fitri Hay
2U4
RPR 113b OR – 
We bought him as a store and loved him from day one. We took him to Newton Abbot for a bumper in May and he ran a cracker in second. He was unlucky on his second start when unseating Jonjo. He's only a young horse and that wouldn't bother me, and it was encouraging to see him run another fine race at Newbury this month. He jumps well and stays well and is going over hurdles now. He might not be this year's horse but is a nice recruit for the future.  
Champagne At Tara
10g Kayf Tara – Champagne Lil
John P McManus
9324-3
RPR 148c OR 139c
He keeps knocking on the door and, while he's not getting any younger, I think he's got a decent handicap in him if the cards fall right. He's effective on decent ground over 2m but stepping him back up to 2m4f might be the way to go. He's also eligible for veteran races, which is another avenue to consider.    
---
Star quality
Cloth Cap 
7g Beneficial – Cloth Fair
Trevor Hemmings 
3113-4
RPR 142c OR 136c 
He needed the run but I was happy enough with his comeback at Chepstow, where he made a mistake at the wrong time and blew up. The winner has franked the form since and it's just a shame Cheltenham was off last Friday as we were looking forward to running. He's entered at Ascot this week and hopefully the ground is half decent. It's always the owner's dream to have runners in the Grand National and, having run such a lovely race in last season's Scottish National, you'd have to think that way, although he has to improve considerably. He's not the biggest but is a very good operator who likes good ground. 
---
Django Django
6g Voix Du Nord – Lady Jannina 
Martin Broughton & Friends 5
171-3P
RPR 131c OR 130c 
I was delighted with his first run back but he cut a hind joint last time and we'll have to wait for that to heal before we make a plan. We'll stick to chasing and he's a nice horse. He needs 3m and is better on soft ground. 
Garry Clermont
4g Maresca Sorrento – Kalidria Beauchene
Mrs C M Walsh
1-13
RPR 97h OR – 
He won his point-to-point and his bumper but stopped very quickly in soft ground on his debut over hurdles at Southwell and we'll come back to 2m for his next run. He's similar to Arrivederci and those other smart four-year-olds in the yard and is going to make some chaser long term.
Kilbrook
4g Watar – Daly Lady
J Burke And Delancey
2-33
RPR 115h OR – 
Placed in a point-to-point and his bumper, I was delighted with his debut over hurdles at Newbury and think he will enjoy stepping up in trip. Ultimately he's going to make a nice chaser but will hopefully win races over hurdles along the way.
Lithic 
8g Westerner – Acoola
The Stone Composers
5223-P
RPR 135c OR 127c
He's frustrating as he could have won more races but we ran him seven times last season and he finished in the first three on four occasions, so he's a fun horse to have. I was a bit disappointed with his comeback last week but maybe he did a bit too much early on and will come on for the run. He appreciates a trip on soft or heavy ground and could be one for something like the Devon National down the line. There's a good race in him.   
Minella Rocco
9g Shirocco – Petralona
John P McManus
9PPP-P
RPR 168c OR 142c
He needs good ground and a real test of stamina to show his best form and had no chance in testing conditions on his comeback at Cheltenham. He's returned in really good form and there's a race for him at Ascot on Friday, as long as the ground isn't desperate. We'll take a view after that but we may well end up going hunter chasing this season. He's been a grand servant and it would just be nice if he got his ideal conditions at some stage.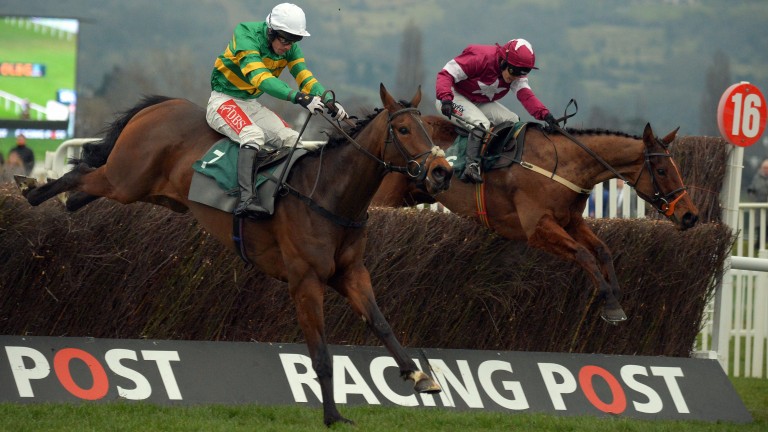 Notawordofalie 
4f Presenting – Saddleeruppat 
Derrick Smith & Mrs John Magnier & Michael Tabor
4-3140
RPR 107b OR –
I think she needed the experience on her hurdles debut at Exeter and she can only improve on that. She's a half-sister to Winter Escape from the family of Black Jack Ketchum and ran a cracker at Aintree on her last start in bumpers. We'll stick with the mares' races and she'll definitely stay a trip. 
On The Bandwagon
4g Oscar – Deep Supreme
Alan Nolan
2 (point-to-point)
He's another nice prospect but because he's so big and backwards, it's unlikely he will be seen out this side of the new year. He's a relative of Ned Kelly and Nick Dundee and has the looks to match but he's going to take time to realise his potential. 

Orrisdale 
5g Oscar – Back To Loughadera
Trevor Hemmings
61-1
RPR 114h OR –
It was a lovely first experience over hurdles at Uttoxeter on Saturday and hopefully he can improve on that. We'll look for another small race under a penalty and he should win more races over hurdles, although ultimately he's a nice 3m chaser in the making and a smart prospect. 
Palmers Hill
6g Gold Well – Tosca Shine
John P McManus
143/1-
RPR 139h OR 134h
He picked up a nasty injury when winning at Cheltenham last year and he's only just come back in, so won't be ready to run for a while. If he stays sound we're hoping to go chasing with him and he certainly has potential in that sphere based on what he achieved over hurdles.
Papa Tango Charly
4g No Risk At All – Chere Elenn
M Tedham
1-7
RPR 97b OR –
He won his point-to-point in Ireland over 3m and we didn't buy him as a bumper horse but he's very green and backwards at home so we gave him the experience at Worcester and that won't have done him any harm. It's onwards and upwards over hurdles now and we could go to Ascot on Friday. His schooling has gone well but he's a horse who is going to take a few runs and it's all about the future with him. 
Pop Rockstar 
7g Flemensfirth – Special Ballot
Mrs Laura Day
2F1-15
RPR 138c OR 137c
He found it a little tough in Grade 3 company at Cheltenham on Saturday but he loves soft ground and stays well so I'm sure he'll win again in his own grade. He's had his palate done before but he might just need it doing again and we'll take another look before making a plan.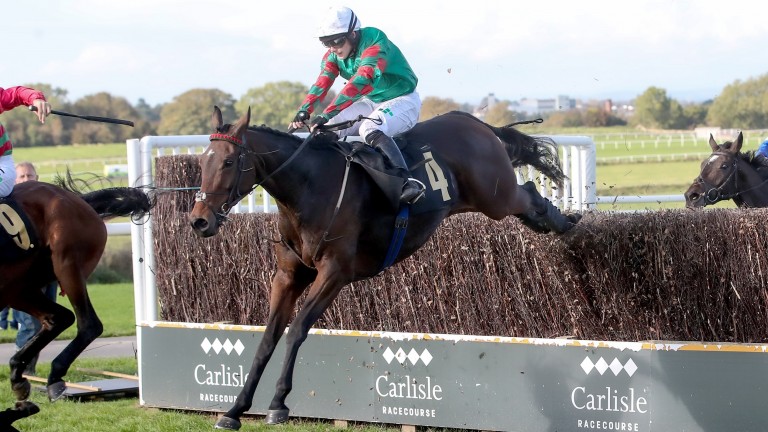 Pop The Cork 
3g Harbour Watch – Gospel Music 
Martyn and Elaine Booth
21
RPR 104h OR 116h
He likes soft ground and jumps well but needs to learn to settle, which should come with experience. He's had a bright start over hurdles and can hopefully build on that.  
Prefontaine 
3g Mastercraftsman – Cochabamba
Paul Smith
U217
RPR 108h OR 128h 
He was going grand at Cheltenham for three-quarters of the race on Saturday but the ground was very bad coming down the hill and he cut out very quickly. It may have just been the ground but we'll take a look at his wind too. It's still early days and we'll keep our options open. No doubt he's got ability. 
Ready And Able
6g Flemensfirth – Gypsy Mo Chara
Derrick Smith & Mrs John Magnier & Michael Tabor
1F-441
RPR 133c OR 133c 
He won a novice chase at Southwell and is a novice for the rest of the season but we might go back over hurdles at some stage. He's a little fragile and needs to be looked after but he's got a fair engine and could be one we try and qualify for the Pertemps Final. He has a couple of options this week. 
Sky Pirate
6g Midnight Legend – Dancingwithbubbles
Lady Bamford & Alice Bamford
2F47-F
RPR 139c OR 132c
Was still in contention when falling at Wetherby which was annoying as we were hoping he'd get a rise in the weights that would guarantee him a place in the BetVictor Gold Cup. We'll go to Ascot over 2m5f on Friday instead and potentially the December Gold Cup at Cheltenham after that. He wasn't the luckiest horse last year and perhaps we were running him over too far. He travels like a good horse and is stronger this season.  
---
Dark horse
Soaring Glory
4g Fame And Glory – Hapeney
P Hickey
1
RPR 100b OR – 
We've liked him from day one and it was great to see him go and win first time at Warwick. He's a grand big horse and very straightforward and you could see him being a top chaser down the line. He's entered at Ascot on Saturday and, if he were to run well, we might go back there for a Listed bumper just before Christmas. He's a smashing prospect.
---
Tedham
5g Shirocco – Alegralil
M Tedham
3217-6
RPR 134h OR 130h
He ran alright at Cheltenham but came home a bit stiff and sore and he's always been a little bit fragile. He's in the Betfair Stayers' Handicap Hurdle at Haydock on Saturday and we're looking at going up in trip with him. The handicapper might have him but he's only five and we might save chasing for next season. 
Terry The Fish
7g Milan – Have More 
Terry The Fishers
P22-81
RPR 139c OR 131c
He's good on his day but is incredibly fragile and it was a good effort to win at Wincanton last time. He likes to go right-handed but it's more about getting him there in one piece on the day. There's a race for him at Carlisle on December 1 but it's one race at a time. 
Unnamed
3g Shantou – Glens Melody
For Sale
Unraced
Shantou's first foal out of Grade 1-winning mare Glens Melody, who boasts one of the best pedigrees in the stud book. He's a strong, precocious type who is pleasing me in everything he does at home and I'll look to run him in a bumper in the spring.
Uptown Lady 
4f Milan – Lady Zephyr
Recycling Pallet Services
2 (point-to-point)
We were delighted to secure this filly at Cheltenham sales last week. She was second in her only point start at Knockinroe in a mares' maiden and Jamie Codd, who rode her that day, loved her and recommended her.
When You're Ready
5g Malinas – Royale Wheeler
Local Parking Security Limited
2-3
RPR 95b OR – 
He finished second in his point-to-point and I was really pleased with his debut in a bumper at Warwick, where he led until the final furlong. He's got loads of pace and I'm hoping he can win a bumper before we go hurdling. He's already schooled well.
---
Rival to watch
I liked the way Emitom went about his business last season. He just seems to do everything right and looks a natural.
Race in focus
It's been a while since Exotic Dancer landed the December Gold Cup at Cheltenham and it would be nice to have another crack at it with Sky Pirate, providing all goes well on his next start.
Two for the Tracker
We've always liked Arrivederci and I'm not losing faith in him, while On The Bandwagon is a nice prospect to look out for down the line.
---
Expert view
Jonjo O'Neill's string is in a transitional period – an exciting time that should set the team up for a prolific next five years. Winners may be lacking this season compared to recent totals, but you will almost certainly be putting a few Jackdaws Castle inmates into your trackers as the season goes on.
Sky Pirate and Tedham are two of his likely flagbearers this campaign. The former has been exceptionally unlucky over fences, falling twice on his last four outings when looking likely to enter the winner's enclosure on both occasions. His turn is just around the corner.
Tedham is a horse I have followed for a while. He has some smart maiden/novice hurdle form to his name and landed a touch at Wincanton in July. He looks open to plenty of improvement.
Plenty of O'Neill's younger horses look to be chasers in the making, including two-time winner Orrisdale, who stayed on stoutly to win last weekend on his seasonal reappearance.
Although he will probably be better over a trip and fences, Orrisdale will come on plenty for that effort and I certainly wouldn't rule out another victory this year.
It is also worth mentioning Annie Mc, who runs for the Coral Champions Club and was prolific over hurdles last campaign. It will be great for connections, including Coral ambassador and Love Island star Chris Hughes, if she could pick up where she left off.