Since taking the bold decision to concentrate on quality over quantity, Evan Williams has proved a rising force in the training ranks and last season bagged his biggest prize-money total, reaching over £822,000, in a career stretching back 18 years.
Last season Williams lost a major ally when stable jockey Paul Moloney decided to hang up his riding boots, but the trainer promoted long-time second choice Adam Wedge into the top slot.
Every yard needs a flagbearer and Silver Streak, who finished third to the ill-fated Espoir D'Allen in the Champion Hurdle in March, has fitted neatly into that bracket and the aptly named grey has already got off the mark for this season, winning comfortably in a well-contested conditions hurdle at Kempton this month.
Williams also considers he has a back-up team of well-bred and potentially smart young horses waiting to strut their stuff over the winter, although many of them will not be asked to scale the heights this term as they are bred for chasing and will go through their educational grounding over hurdles in the coming months.
---
Stable profile
Yard Fingerpost Farm, Llancarfan, Vale Of Glamorgan
Assistant trainer Eleanor Williams
Travelling head groom David Burchell jnr
Jockeys and claiming riders Adam Wedge, Conor Ring, Mitchell Bastyan, Isabel Williams
Office managers Cath Williams, William Williams
Number of horses 82
Number of staff 26
Started training 2002
Total prize-money 2018-19 £822,908
Website evanwilliamsracing.co.uk
Twitter @EWilliamsRacing
---
Winners in Britain
2018-19 53
2017-18 52
2016-17 51
2015-16 70
Profit/loss to £1 stake
2018-19 -£134.82
2017-18 -£144.49
2016-17 -£157.01
2015-16 +£12.95
Prize-money 2018-19
£822,908
---
Annsam
Four-year-old gelding Black Sam Bellamy (sire) – Bathwick Annie (dam)
Owner: Wayne Clifford
Form figures: 53-16
Racing Post Rating: 106 hurdle
Official Rating: 118h
Had been a bit disappointing in a couple of runs over hurdles but came good in a little novice hurdle at Wincanton in May. I think he can only go forward this time as he's bred to be a nice jumper, although he ran a bit too free for his own good at Wincanton on Sunday.
Ballinsker
4g Court Cove – Brownie Points
Gg Thoroughbreds XII & Partner
1-1
RPR 113h
Won his point-to-point in Ireland before coming to us and is very much a horse for the future and we'll probably not see the best of him until he goes chasing next year. His Ludlow win over hurdles last week pleased me a lot as he travelled and jumped well.
Bold Plan
5g Jeremy – Kings Orchid
Mr & Mrs William Rucker
2/3312-0
RPR 133h OR 130h
He disappointed me a bit in the Silver Trophy at Chepstow on his return to action as he wasn't sharp enough to go with them. We'll have to look at the options but I suspect we might decide to go novice chasing with him as jumping fences was always going to suit him better.
Caswell Bay
4g Fame And Glory – Lauderdale
David M Williams
3294-12
RPR 115h OR 118h
Improved massively to be beaten by just one horse in the race that used to be called the Free Handicap Hurdle at Chepstow recently and the hope will be that he remains on an upward curve. He had the rest of the four-year-olds well beaten there and I see no reason why he'll not be a force in decent handicap hurdles.
Chooseyourweapon
6g Flemensfirth – Definite Love
Mr & Mrs William Rucker
1/1143/
RPR 132h OR 130h
Basically missed all of last season as we never got the proper soft ground that's important to him. He's as raw as they come and wants the big fences on a galloping track.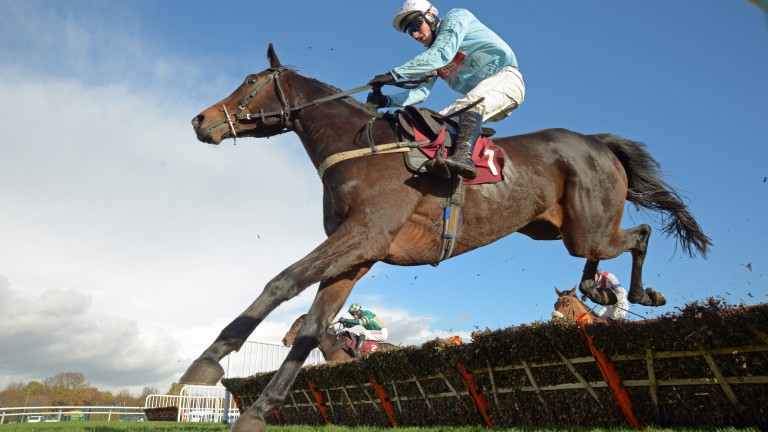 Clyne
9g Hernando – Lauderdale
David M Williams
3/2540-7
RPR 155h OR 143h
Getting a bit of age about him now but wasn't disgraced on his comeback run at Ffos Las. These days he needs soft ground on a left-handed track over 2m4f to be seen at his best.
Coconut Splash
4g Stowaway – Presenting Chaos
Mr & Mrs William Rucker
1-2
RPR 128h
Won his Irish point-to-point in good style and joined us soon afterwards. He'll not have a hard time this season as it's all about the future with him. He has a good attitude and the plan is to give him a run in a novice hurdle after he made a cracking debut for us when just touched off in a maiden at Aintree on Sunday.
Court Royale
6g Court Cove – Windsor Dancer
Mrs Janet Davies
41-5322
RPR 129c OR 127c
Has taken time to get going but ran well on his first try over fences when second at Newton Abbot last month. He was second again at Ludlow last week and should be able to get his head in front over fences.
Dans Le Vent
6g Skins Game – Boreade
RJ Gambarini Racing
44230-U
RPR 136h OR 129h
He's a funny little horse but was in the process of making a nice debut over fences at Ludlow this month when parting company with his rider on his first run for us when holding every chance. He's the type we'll keep tipping away with around the smaller tracks this winter.
Esprit Du Large
5g No Risk At All – Tufflolyloly
Mr & Mrs William Rucker
71410-2
RPR 136c OR 134c
He was a bit babyish last season but still managed to run well on a couple of occasions. I was very pleased with his second place on his chase debut at Carlisle this month as it showed he had grown up a lot. Jumping fences will be the making of him.
Fado Des Brosses
5g Balko – Nanou Des Brosses
Mr & Mrs William Rucker
1-5
RPR 92 (ptp)
He's a very nice young horse and will want plenty of cut in the ground and a galloping track. Shaped with plenty of promise when fifth at Chepstow (on Tuesday).
Go Long
9g Hurricane Run – Monumental Gesture
Mr & Mrs William Rucker
P/43/313-
RPR 138c OR 129c
Loads of little niggles over the seasons have prevented him from getting to where he should be. If we can keep him right I think there's a good 2m4f handicap in him on a flat track in the coming weeks.
Grania O'Malley
6m Beat Hollow – Oh Susannah
Ms S Howell
9-46212
RPR 121c OR 120c
She's a good, tough mare who did nothing wrong in finishing second last time. She's fairly consistent but I think she might be the type who is better carrying lower weights in decent races than trying to concede weight as there's not that much of her.
Holdbacktheriver
7g Presenting – Fairy Lane
WJ Evans Racing
1/55148-
RPR 120h 125c OR 120h 124c
He's a bit tricky to catch right as he either runs well or runs badly so he's something of an enigma. He's a big, heavy horse so perhaps it's taken a bit of time to grow up. 3m on proper soft ground should bring out the best in him.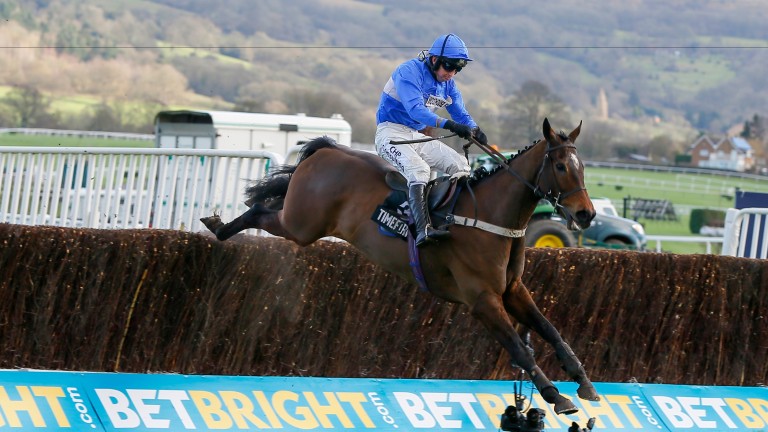 King's Odyssey
10g King's Theatre – Ma Furie
Mr & Mrs William Rucker
33/2F6F-
RPR 148c OR 137c
He might be approaching 11, but there's still plenty of life in him. He really wants deep ground to be seen at his best and hopefully a nice handicap chase will come his way this winter.
Marble Moon
7g Millenary – Royal Marble
Emrys Jones & Partner
U62411
RPR 126c OR 123c
On a hat-trick and is really tough, genuine and consistent. However, all of that comes with a price and he's going to have to wrestle with a career-high mark from now.
---
Two for the tracker
"I will be surprised if Esprit Du Large cannot go one better than when runner-up at Carlisle and, although Prime Venture has a few miles on the clock, I think he's up to winning a nice staying chase when the mud is flying."
---
On The Quiet
4f Ballingarry – Royale Sulawesie
Hush Hush Partnership
6-1443
RPR 107h OR 105h
A little filly going the right way. She won a run-of-the-mill bumper in the summer but hurdling will suit her and I think she has a workable mark.
On Tour
11g Croco Rouge – Galant Tour
T Hywel Jones
63P5-25
RPR 146c OR 130c
He's been a star for the yard down the seasons and the veterans' chase series has been a saving grace for horses like him. He was a staying-on second in one of those at Chepstow this month and third in the final at Sandown in January. We'll be aiming to end up back at Sandown with him in the new year. Aintree on Sunday may have come a bit soon after Chepstow as he was a bit flat.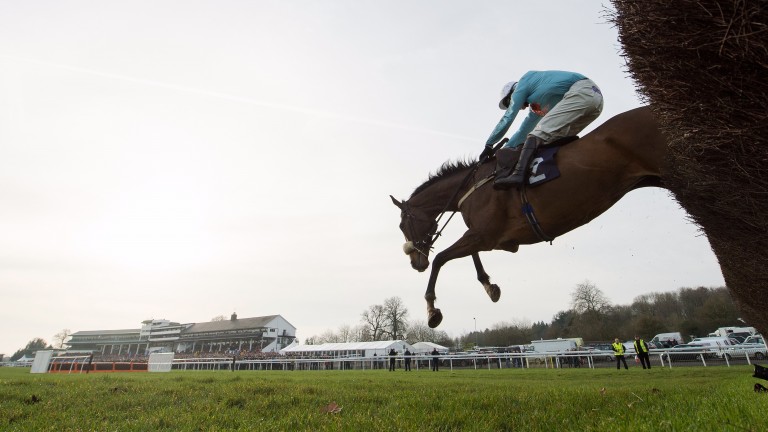 Pobbles Bay
9g Oscar – Rose De Beaufai
David M Williams
3UF21-2
RPR 132h 147c OR 134h 139c
Stays very well and I would think he'll go for the Welsh Grand National at Chepstow. He's had his problems along the way and, as a result, we've never had a clear run with him, but the signs are more positive this time and he was a very encouraging second over hurdles at Uttoxeter this month.
Present Value
5g Gold Well – Presenting Shares
Mr & Mrs William Rucker
213-
RPR 128h OR 128h
Has been to the racecourse only three times as he's been something of a big baby, but he gives the impression he's strengthened up nicely for a summer break. He'll go novice chasing shortly and can make his mark.
Prime Venture
8g Primary – Next Venture
Mrs Janet Davies
R2349-4
RPR 142c OR 135c
Refused at the first at Ludlow last season but after that he strung together a few decent efforts over fences without winning. He's a strong stayer, will improve for his comeback at Chepstow (on Tuesday) and likes the mud so he looks likely to be another of our Welsh National contenders.
Ring The Moon
6g Spanish Moon – Get The Ring
WJ Evans
9/32-
RPR 104b
Ran well in a bumper in July 2018 but has needed time as he's a heavy-framed horse who wants plenty of cut in the ground. He has ability and should be able to make his mark in a maiden hurdle.
Quoi De Neuf
5g Anzillero – Qualite Controlee
Mr & Mrs William Rucker
1/142-2
RPR 130h OR 129h
Got beaten fair and square at Chepstow this month when runner-up but ran a blinder in the circumstances. I think we'll be keeping him to hurdles for now and he might be up to winning a nice handicap.
Sabbathical
4g Sunday Break – Ulcy Pressive
RER Williams
2-8
RPR 97b
Runner-up in a point-to-point last spring before he came to us. He's a big, imposing, attractive horse and definitely one for the future. Given the circumstances he did well to finish in midfield at Cheltenham on Saturday.
---
Dark horse
Secret Reprieve
5g Flemensfirth – Oscar's Reprieve
Mr & Mrs William Rucker
515-5
RPR 132c OR 130c
He ran really well in a deep novice chase at Ffos Las on his first run over fences and is the type who will improve massively for the experience. I like him a lot and he should soon be winning.
---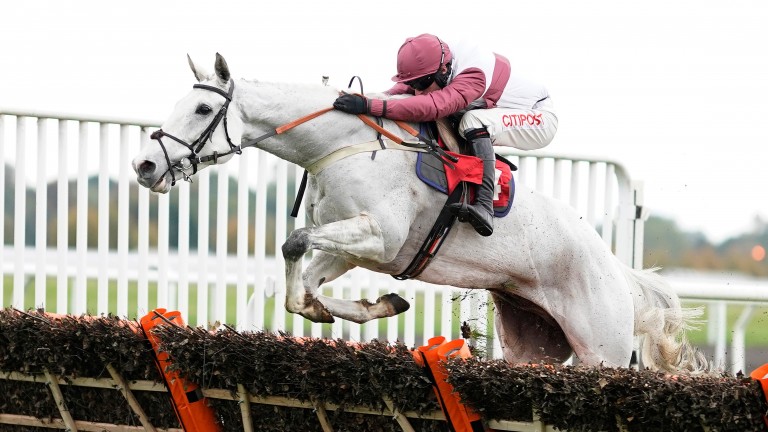 Star quality
Silver Streak
6g Dark Angel – Happy Talk
L Fell
22235-1
RPR 157h OR 154h
Our flagbearer and a very good horse. After he won the Swinton Hurdle and the Welsh Champion Hurdle I thought, that's it, he might just be a handicapper but then he finished third in the Champion Hurdle. He's come back from his summer break a different horse and won at Kempton this month – I accept there might be some question marks over the bare form but he won really well. We'll now treat him like a Graded horse until he shows us different and he'll go for the Fighting Fifth at Newcastle or the Christmas Hurdle at Kempton. After that all roads will hopefully lead to Cheltenham again in March.
---
The Last Day
7g Oscar – The Last Bank
Mr & Mrs William Rucker
41/F221-
RPR 134c OR 131c
Wants loads of give in the ground and it cannot rain enough for him as a couple of wins around Chepstow in the mud can testify. He wants a galloping track to be seen at his best.
Treasure Dillon
5g Sans Frontieres – Treasure Trix
R Abbot & M Stavrou
22921-3
RPR 114h OR 115h
He was disappointing early last season but quietly got the hang of things and ended up winning a little handicap hurdle at Chepstow. He's come back from his summer break looking a different horse so the hope is he'll progress, and his third at Cheltenham on Friday was a nice step forward.
---
Expert View
This is an interesting yard and one in which the focus has clearly switched from quantity to quality during the last few seasons. In 2010-11 Williams sent out a career-best 90 winners, whereas he's been in the low 50s in the last three seasons. However, the 53 in the most recent campaign earned the yard more prize-money than ever before, so he's obviously doing something right.
While Silver Streak may be the stable star, he does go particularly well fresh, so don't expect to see much of him – remarkably all his wins have come after an absence of at least two months and I doubt that is lost on Williams. In fact, his record after such breaks is so good you can almost back him blind (1112111 since joining the yard). And by the same token he should be opposed when returned to the track any sooner (nought from eight).
My personal favourite has to be Quoi De Neuf. Another who benefits from having plenty of time between races, I'm looking forward to seeing him back on decent ground after three runs on soft/heavy since winning his novice. He is clearly well regarded as he was pitched into a Grade 2 on only his second start and, although it sounds as though he's going to be kept to hurdles for now, he looks the type who is going to improve when going over fences.
One who should have a fruitful season in that sphere is Esprit Du Large, who finished strongly for second on his recent chase debut at Carlisle in what looked a really competitive novice handicap. He can be followed when stepped back up to 2m4f and he has the potential to be the yard's best chaser since Buywise had everybody tearing their hair out.
While the bulk of the stable's runners understandably come at nearby Welsh tracks, you should really keep an eye out for the rare occasion when Williams sends them to Scotland, specifically to Ayr and Musselburgh. The trainer has had a combined ten winners from just 21 runners at those tracks.
Pietro Innocenzi