Following two lean seasons, the revival is under way big time at Pond House. With 36 winners on the board, David Pipe is poised to eclipse his tally for the whole of last season and he has already bettered his total for 2017-18.
His strike-rate, which had been in the doldrums, is back to a healthy 18 per cent, and the stat he is most proud of is he has won at least one race with 45 per cent of the horses he has run this season; that is second only to Brian Ellison among the current top 20.
With a double on the final day of Cheltenham's truncated November meeting – a fixture he likes to target with a passion – it was almost like old times.
The successful pair, Duc De Beauchene and Israel Champ, are not household names, but they are examples of the promising young inmates Pipe is bringing through as he rebuilds a once mighty operation. Meanwhile other members of the youth academy have also passed their early exams with flying colours.
There is cause for celebration off the track, too, with the trainer announcing recently he and long-time partner Leanne are to wed next summer.
---
Stable profile
Yard Pond House Stables
Where Nicholashayne, Nr Wellington, Somerset
Started training 2006
Horses in yard 80
Members of staff 35
Assistants Martin Pipe, Gerry Supple
Head lad Oliver Defew
Barn leaders Martin Ayliffe, Ali Galliers-Pratt
Travelling head lads Craig Wylie, Bob Hodge
Jockeys Tom Scudamore, David Noonan
Amateur Fergus Gillard
PAs Gail Harrison, Gemma Edwards, James Smith
Lab Esther Salter (technician), Barry Allen (advisor)
Gallops team Mike Broom, Sean Darlow, Colin Smale
Stable sponsor W & S Recycling
Website davidpipe.com
Twitter @DavidPipeRacing
---
Winners in Britain
2018-19 44
2017-18 33
2016-17 59
2015-16 80
Profit/loss to £1 stake
2018-19 -£66.42
2017-18 -£113.51
2016-17 -£194.09
2015-16 -£111.92
Prize-money 2018-19
£583,292
---
Champers On Ice
Pedigree: nine-year-old gelding
Robin Des Champs (sire) – Miss Nova (dam)
Owner: Caroline Tisdall and Bryan Drew
Form: P/58/4P-1
Racing Post Rating: 132 chase 147 hurdle
Official Rating: 148 chase 137 hurdle
Considering he hadn't won for nearly three years, we were delighted with Ffos Las, where everything was tailor-made. He has his own way of jumping – clumsy would be putting it politely – but it was good there. He loves a long-distance slog and if conditions are suitable he could go to Newbury next week [November 29] for a 3m handicap hurdle.
Daklondike
7g Gold Well – Strong Irish
Caroline Tisdall
P/P1UR-2
RPR 152c 141h; OR 147c 140h
He's always been talented but quirky, though things took a turn for the worse last season when he ran loose at Haydock with the visor on and got in a right state. The experience was still playing on his mind when he refused to race in the Eider. We went looking for a confidence-booster and he ran well over hurdles, so now we're keen to go for the Ladbrokes Trophy tomorrow week provided there's cut in the ground. If we can keep him mentally in a good place, the decent long-distance handicaps will be right up his street.
Duc De Beauchene
6g Saddle Maker- Quatia D'Angron
JP McManus
9412-01
RPR 131h OR 119h
Battled on well to win at Cheltenham last Sunday under a great ride from Jonjo O'Neill jnr; that race had been the plan for some time and we got lucky with the ground. We'll see what the handicapper does; normally we'd look to run again quickly as he escapes a penalty but with him we might take our time.
Eamon An Cnoic
8g Westerner – Nutmeg Tune
Angove Family
6149-0U
RPR 144c 131h; OR 138c 129h
Got as far as the second in the BetVictor Gold Cup which was disappointing for the owners who flew over from the US. It was even more frustrating as he went to Cheltenham in the best form he's ever been in. We'll try again at their December meeting, either in a 2m handicap or the Caspian Caviar Gold Cup. His wind has been an issue down the years but it seems okay at the minute. The Angoves are just one of the fantastic owners we have here; of course we're always keen to welcome new patrons and I hope we offer a great experience at Pond House. Our doors are always open!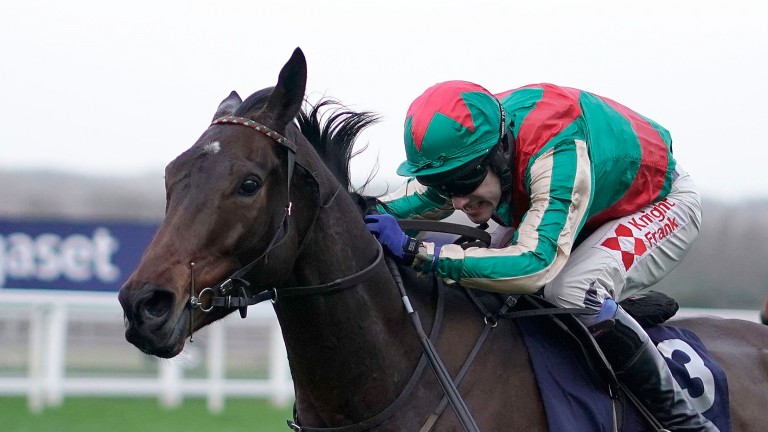 Eden Du Houx
5g Irish Wells – Maralypha
Caroline Tisdall
111-24
RPR 121h OR –
Gorgeous horse who hasn't yet translated his high-class bumper form to hurdles but I'm sure he will. I was disappointed he got beat on his debut and I thought he'd be okay dropped back to 2m½f on the soft ground at Cheltenham, but we'll be stepping him up to 2m4f next time. I'm sure there's a lot more to come from him.
Eur Gone West
6g Westerner – Floating Euro
Jane Gerard-Pearse
474116-
RPR 134h OR 133h
I'd put a line through his Perth defeat, it was one run too many. He'd gone up a fair bit for his two wins in quick succession, but I feel he can still be competitive off his mark in handicap hurdles. Needs to go right-handed.
Extra Mag
5g Kapgarde – Qrystale Mag
Angove Family
U12-
RPR 130h OR 132h
Unfortunately this was another occasion when the owner flew in from the US. In this instance to see him run in the Imperial Cup, and on touching down he had a text from me saying the horse had gone lame that morning. We won't see him back until the second half of the season but I hope he'll do well in handicap hurdles.
First Lord De Cuet
5g Lord Du Sud – Alyce
Potter, Pipe and Pete
121-4
RPR 121h
We tread carefully with him as he's not a great eater so can't take as much work as you'd like. Qualified for the EBF Final when fourth in what looked a competitive qualifier at Wincanton and will definitely step up on that next time. He'll stick to 2m for the time being.
---
Two for the Tracker
"I've always liked Know The Score for fences and Eden Du Houx has a lot more to offer."
---
Gabrielle Du Seuil
3f Cokoriko – Marie Du Seuil
No owner
4-4
RPR – OR –
A recent arrival, has shown promise on both her starts over hurdles in the French Provinces, the latest of which has thrown up subsequent winners. She's for sale if anyone wants her.
Hugo 'N Taz
8g Kayf Tara – Ryde To Arms
valueracingclub.co.uk
658-52P
RPR 114c 114h; OR 111c 110h
Has come from Denis Hogan in Ireland and hasn't been here long. He looks as if he'll gallop all day for you and should be out around Christmas.
Induno
5g Flemensfirth – Vast Consumption
Ronnie Bartlett
2-1
RPR – OR –
He's one of a number of promising bumper winners we have who are hopefully going to progress and become our stars of tomorrow, they are our future here. The one who beat him on his debut [Overthetop] has come out this season and won impressively over hurdles. The ground was just soft enough when he quickened nicely to win at Ffos Las, putting the race to bed in a matter of strides.  His work has been a lot better this autumn. Goes hurdling now and is one to look forward to; needs a bit more practice schooling.
Israel Champ
4g Milan – La Dariska
John White and Anne Underhill
1(point-to-point)-61
RPR 118b
Big, imposing type who has the engine to go with it. The trainer got him beat first time, he simply wasn't straight enough, but he looked very good in the Listed bumper last Sunday. Historically the race has a small field, I thought we'd get an easy lead and that's what happened. We'll stick to bumpers this season and look at the Ascot one before Christmas next time.
Kepagge
5g Getaway – Miracle Lady
Sarah Ling
F (ptp)-1
RPR 118b
Rangy individual, a future 3m chaser on looks and not your typical bumper horse. We made the running with him at Chepstow, a big, galloping track, and he won impressively. Goes novice hurdling now and jumps well. I know he fell in his Irish point-to-point but it was an unlucky fall.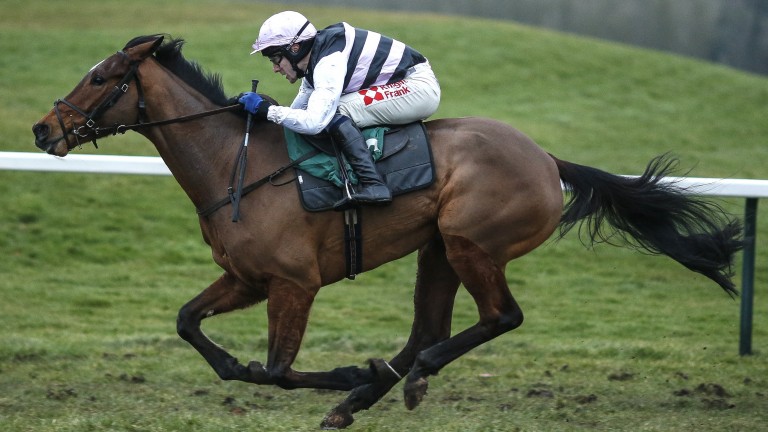 Know The Score
6g Flemensfirth – Prairie Bell
Angove Family
0/3133-1
RPR 135c 122h OR 129c 129h
Has entries tomorrow and Sunday and will be taking up one of them. He was due to run on the abandoned first day of Cheltenham; I thought he was possibly my best chance of the meeting and we had Jamie Codd booked. He wasn't seeing his races out last season so we cauterised his palate over the summer. I was very pleased with his Worcester win, where he was the first off the bridle but then really battled. I could see him ending up in something like the four-miler, as I still call it, at Cheltenham.
Meep Meep Mag
5m Getaway – Deadly Pursuit
M Lambert and Mrs R White
31(ptp)3
RPR 97b
On the small side, more a hurdler than a chaser although she jumped her fences well in her point-to-points. That said, she's a little terrier with a great attitude. Ran very well in her mares' bumper at Warwick and we're aiming her at a similar contest at Wetherby at the end of the month.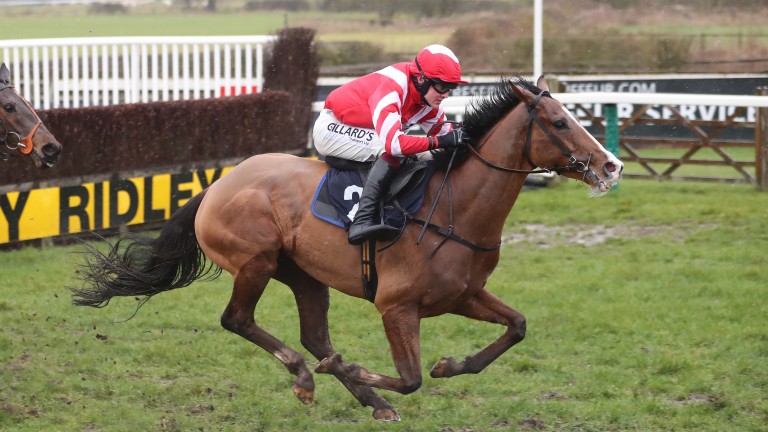 Mr Clarkson
7g Jeremy – Wynsleydale
Pipe's Prospectors
PP6-115
RPR 138h OR 136h
We treated him for his wind and an ulcer problem and it seemed to help as he returned in good form in the summer. Although his two wins came at Worcester and Cartmel, he's probably better going right-handed. He was below his best when we made another trip up to Cartmel, the track was plenty sharp enough. He's had a decent break and we'll be looking to school him over fences shortly; he once finished second to Finian's Oscar in a point-to-point.
Nordic Combined
5g Haafhd – Chilly Filly
Chris and David Stam
20F8-33
RPR 130h OR 124h
Has always been a bit of a monkey; the ability's there – just look at his third place in a Listed handicap at Ascot first time – but we're still seeking that elusive first win. I thought I'd found an easier race for him last time but he went and made hard work of it. He's jumping better this season and in a good place mentally, so I hope we get there. Probably wants going up in trip.
Poker Play
6g Martaline – Becquarette
Angove Family
P210-15
RPR 143c 140h OR 138c 135h
I'd wanted to run him over 2m4f at Cheltenham last Friday, but when that was off we re-routed him to Saturday over 3m½f and he didn't quite get home; we probably rode him too positively. He'd looked very good at Ffos Las the time before and the second horse has won impressively since. We'll drop back to 2m4f next time; with his high knee action he'll always need soft or heavy ground.
Queens Cave
6m Court Cave – Shuilan
Kenneth Alexander
112/P-21
RPR 118h OR 128h
Has a high cruising speed and we've always thought a lot of her, but she suffered from a fibrillating heart when beaten at 1-14 last season. We check her constantly but she seems to have got her confidence back and won as she should have done at Exeter, having run so well behind the smart Silver Forever first time. We'll be looking for something a bit better next time.
---
Star Quality
Ramses De Teillee
7g Martaline – Princesse D'Orton
John White and Anne Underhill
122P-14
RPR 158c 137h; OR 151c 144h
Was below his best at Cheltenham last Saturday; he's had ongoing wind issues and his breathing may have been troubling him, so we'll get it checked out. He'd made a winning return in a staying novice hurdle and he'll run over hurdles again at some point. He'll have a National entry again; officially he pulled up at Aintree last April but that didn't tell the whole story. When he made a mistake the left rein broke, David Noonan grabbed the right rein which was caught around the horse's throat, and he jumped the last five fences on one rein.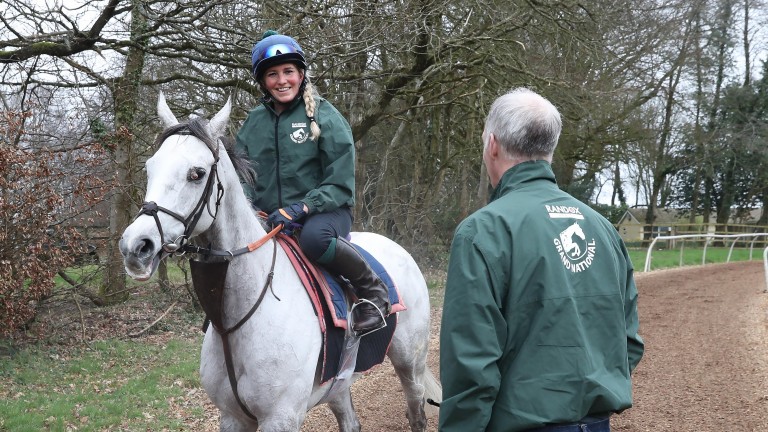 ---
Remastered
6g Network – Cathodine Cayras
Brocade Racing
1/152-05
RPR 133h OR 131h
Ran just okay at Cheltenham the other day but I feel there's more to come. We probably need to be a bit less forceful, sticking to 2m4f or we could try dropping him in over 3m. He'll stick to hurdling this season.
Story Of Friends
5g Kingsalsa – Royale Malinelle
Brocade Racing
152-112
RPR 117h OR 118h
He had a wind op over the summer and I fancied him for the 2m novice handicap hurdle at Cheltenham last Friday but that was rained off. Looks to be on a nice mark and there are plenty of other opportunities coming up.
---
Dark Horse
Thinking
4g So You Think – Laetoli
Nick Shutts
1-
RPR – OR –
Won his only hurdle at Vichy in France a year last August from a horse [Yccs Portocervo] who is now rated 123 for Richard Newland. Sustained a tendon injury shortly after joining us but is fine now, having filled out and turned into quite a monster. I'm looking forward to getting him going in the second half of the season.
---
Taj Badalandabad
9g Shantou – Last Chance Lady
William Frewen
7P1044/
RPR 140h OR 138h
Has been plagued with leg problems all his life and was off all of last season. Two runs ago he was just over five lengths off Delta Work in the 2018 Pertemps Final which was good form. He's near to returning, I'm not sure whether it will be over hurdles or fences.
Umbrigado
5g Stowaway – Dame O'Neill
John White and Anne Underhill
2/1116-
RPR 140h OR 142h
He's had a wind op, has been working well like he always does and we fancy him to run a big race in the 3m handicap hurdle at Haydock tomorrow, a race I used to love targeting when it was over the fixed brush hurdles. Was below his best at the end of last season when we stepped him up to 2m4f in the Grade 1 at Aintree, but he shapes as if he'll get the trip. His handicap mark is high enough, so we'll see.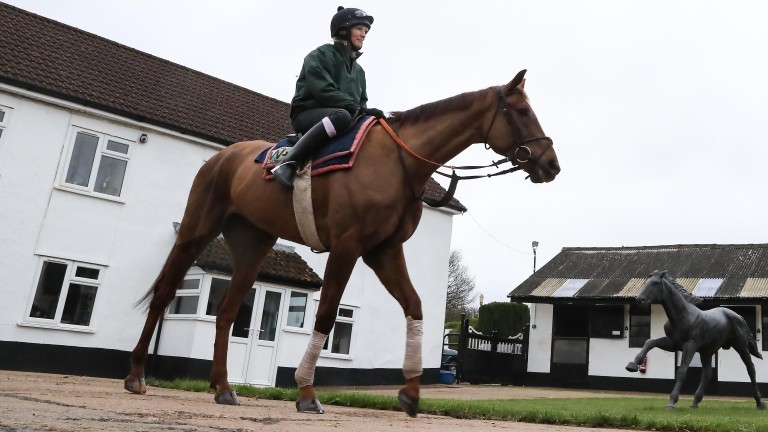 Vieux Lion Rouge
10g Sabiango – Indecise
Caroline Tisdall and John Gent
2PP0-19
RPR 160c 141h; OR 145c 135h
It was great to see him come back to winning form in the veterans' chase first time; we tried him back over hurdles last weekend but it didn't work. He has two Gold Cups coming up: the Becher Chase next month and then the veterans' final at Sandown in January. It's amazing that in four Grand Nationals and three Becher Chases he's jumped 202 fences round Aintree without mishap.
Warthog
7g Martaline – Shekira
Caroline Tisdall and Bryan Drew
7/1P3P-3
RPR 142c OR 132c
Strong traveller, not always a strong finisher, but hopefully a wind op has helped in that respect and he ran a blinder when third in the BetVictor Gold Cup; we switched him there after the 2m race was abandoned the day before. I've always thought there might be a big race in him and we'll take him back to the next Cheltenham meeting for the 2m handicap or the Caspian Caviar Gold Cup.
Yaa Salaam
5g Helmet – Ya Hajar
Two Hopes
32-2
RPR 118h OR 117h
Laid-back at home but lights up on the track. We took him to Lingfield on Wednesday and he coped well with the ground, the softest he'd raced on. He's a winner waiting to happen over hurdles.
---
Expert View
The strength in the yard nowadays comes in the staying chase division, so whenever I'm looking at Pipe-trained runners I'm always assessing their potential for better over further.
Ramses De Teillee may have struggled with wind issues at Cheltenham on Saturday, but he had previously won a novice hurdle at that track in October and looks sure to go on the rampage in similar contests when he can put his chasing experience to use. All roads lead to Aintree for another crack at the Grand National for last year's Welsh National runner-up.
Aintree might again be the long-term aim for former Becher winner Vieux Lion Rouge, who disappointed over hurdles at Cheltenham on Saturday but has been laid out for another go at the Becher next month and then the veterans' final. His two Gold Cups according to Pipe.
Daklondike represents the same owner Caroline Tisdall and it's good to hear there has been no repeat of the temperament issues that he showed when refusing to race in the Eider. He will go to the Ladbrokes Trophy as an outsider but might have a big staying handicap in him.
Warthog is the stable star over shorter trips and he bounced back to form after wind surgery when third in the BetVictor Gold Cup at Cheltenham on Saturday. That was a contingency plan after the 2m handicap chase on the previous day had been abandoned and it will be interesting to see what Warthog can do back at 2m should connections choose to go that way next month. He travels powerfully and jumps well, so could be a weapon at that trip.
Jockey-wise, Tom Scudamore is riding at the top of his game and continues to churn out winners, but don't dismiss anything ridden by stable amateur Fergus Gillard. I've been impressed with the 7lb claimer, who is excellent value for his allowance, and all eight of his rides in chases for the yard have finished in the first four, including three winners and two seconds. That's a 38 per cent strike-rate and a £1 bet on each would have yielded a profit of £25.50. His claim could prove invaluable in big handicap chases, so keep an eye out for him.
Graeme Rodway