The transition from Dorset dairy farmer to one of jump racing's most powerful trainers has been rapid, and heading into this season Colin Tizzard is armed with a formidable team, one he believes is the strongest he has ever had.
This season's Cheltenham Festival will mark ten years since Tizzard's first winner at the prestigious meeting when Cue Card took the Champion Bumper – his introduction as the flagship horse for a yard that has thrived since that 40-1 success.
Much has changed since that day in 2010. The jockey that afternoon, Joe Tizzard, has since retired and now plays an integral role in the training along with sister Kim, the cows and dairy business have disappeared, and Tizzard has a 120-strong string bursting with talent and potential.
While Cue Card is enjoying a deserved retirement, another star has taken his place the box he once occupied, Lostintranslation. The Tizzards have dominated the three-mile chasing division in previous years with Thistlecrack and Native River, and his latest challenger has Tizzard purring with excitement.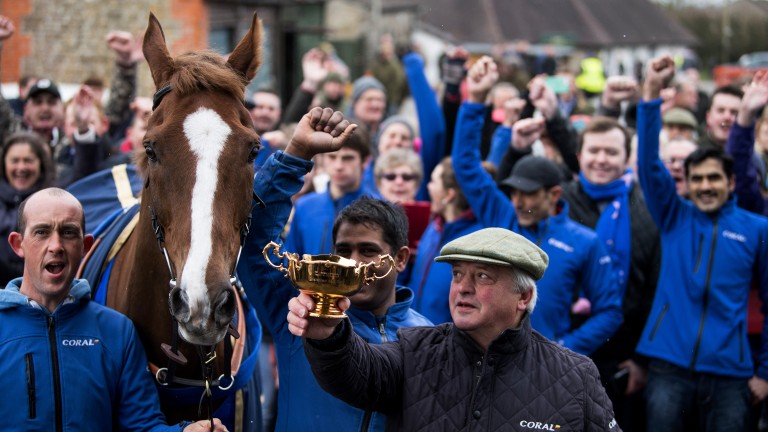 And while Elegant Escape and Sizing Tennessee collected big staying handicap chases in the Welsh Grand National and Ladbrokes Trophy, the operation has strength across all divisions. In Elixir De Nutz they have a top-class hurdler and Reserve Tank is one of the leading novice chasers this year.
Meanwhile, at the end of last season the Tizzards purchased plenty of expensive point-to-pointers to form a smart group of novice hurdlers.
Early season results have been excellent in comparison to previous years, perhaps highlighting the boost of a new flat gallop built this summer. A big season surely awaits.
---
Stable profile
Yard Venn Farm Stables
Where Milborne Port, near Sherborne, Dorset
Trainers Colin Tizzard, Joe Tizzard, Kim Tizzard
Assistant Chris Wald
Head girl Leia Crocker
Travelling head lad Ritchie Young
Jockeys Harry Cobden, Jonjo O'Neill jnr, Richard Johnson, Tom O'Brien, Robbie Power and Tom Scudamore
Conditionals Harry Kimber
Started training 1995
Horses in yard 120
Members of staff 34
Secretaries Pauline Tizzard, Debbie White
Website colintizzard.co.uk
Twitter @colintizzard
Stable sponsor Coral
---
Winners in Britain
2018-19 77
2017-18 79
2016-17 57
2015-16 50
Profit/loss to £1 stake
2018-19 -127.89
2017-18 -159.35
2016-17 +8.75
2015-16 -46.75
---
Prize-money 2018-19
£1,888,757
---
Ainchea
Six-year-old gelding Flemensfirth (sire) – Lady Petit (dam)
Owner: Ann & Alan Potts Ltd
Form figures: 212F
Racing Post Rating 136 (hurdles) Official Rating 141h
We'll probably look for a nice handicap hurdle for him somewhere, but we have to go slow with him because he had a real bad injury last season. He's got a massive engine and he seems fine at the moment.
Bally Longford
11g Gold Well – Stay On Line
Ann & Alan Potts Ltd
15233U
RPR 142 (chases) 132h; OR 135c 121h
He had a really good summer, winning twice and been placed. He prefers better ground and this has been the making of him. He's been on the go for a while, so we'll give him a good winter break and come back again next spring. He had a great summer campaign apart from unseating on Sunday.
Beaufort West
5g Getaway – Blessingindisguise
Taylor and O'Dwyer
/9462P-0
RPR 126h OR 127h
We've had high expectations for him since he joined us and his form was good last season. He disappointed at Chepstow on his reappearance because we went there thinking he was on quite a workable mark. He is going to have his wind looked at and that could make a difference. But we still think he is well handicapped and hopefully he'll have a good year.
Bold Conduct
5g Stowaway – Vics Miller
John Romans and Terry Warner
Unraced
RPR – OR –
We bought him at the Open meeting at Cheltenham last November after he won a point-to-point – and that form looks quite strong. He has yet to run for us – he had a slight injury which meant we couldn't run him at the end of last season but that won't have done him any harm. He's back in and looks really well. He's a big horse who wants a bit of soft ground. We'll probably start in a novice hurdle in December.
Bramble Brook
9g Kayf Tara – Briery Ann
Brocade Racing
-232242
RPR 126c 115h; OR 122c 111h
He ran a solid race when second at Wincanton the last day and we'll probably head back there with him on November 9.
Butterwick Brook
4g Getaway – Sheriussa
The Butterwick Syndicate
Unraced
RPR – OR –
He's yet to race for us but we're going novice hurdling with him. He goes well in his work and we're looking forward to seeing what he can do on the racecourse.
Carrick Roads
5g Robin Des Champs – Jay Lo
Brocade Racing
0/8421-6
RPR 95c 120h; OR 118c 118h
He ran at Uttoxeter in a really competitive race but he's got that first run under his belt. He improved as the season went on last year and I would expect him to do the same this season. He jumped well and had a good blow the last day, so I'm sure there's plenty of chases to be had with him.
Copperhead
5g Sulamani – How's Business
Mrs GC Pritchard
9/03811-
RPR 127h OR 125h
He finished off last season really well, winning his last two, and we'd like to think there's more to come. We'll look at novice handicaps over 3m for him and he should be running sometime soon. He jumps very well and he has summered great too – he's grown into a strong horse who should have a good year.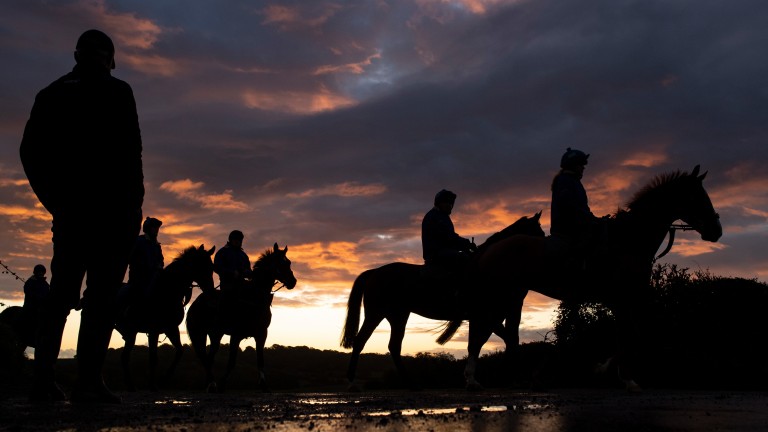 Darlac
6g Lucarno – Pail Mail
Mrs GC Pritchard
277P-2F
RPR 135c 135h; OR 134c 134h
He was the first runner of our winter horses when he was second at Fontwell and we were pleased with that run, but then he fell at Plumpton. He's fine following his fall, it was just a novicey mistake. He would've stayed on but he'll live to fight another day. He was placed at Grade 2 level last season, although he wasn't really himself in the second half of last season. We think he should be competitive enough in the novice chase division this season. He jumped well enough last season, too, so we're hopeful he'll have a good year.
Drinks Interval
7m King's Theatre – Dame Fonteyn
The Land Value Partnership
23PFP-P
RPR 144c 124h; OR 133c 125h
She had a bit of a busy campaign last year and sort of paid the price for it. She looked poised to win a Listed race at Market Rasen before falling and then finished second to Magic Of Light at Newbury. She was a bit disappointing on her return, she just chucked the towel in at Chepstow. There's a nice mares' programme so we have plenty of options throughout the year for her – she should be competitive in those races. She's a tough and game mare who goes well at home and is suited to a sounder surface. What she doesn't have in size, she makes up for in heart.
Duc Kauto
6g Ballingarry – Kauto Lorette
Ann and Alan Potts Ltd
81P00-1
RPR 100c 94h; OR 96c 96h
He won at Wincanton on his return and it was a lovely performance. He did it nicely and travelled and jumped really well. He's had his wind op and I think there's been a bit of improvement from that, so he could go in another race. He looked good on that ground too.
Early Days
5m Stowaway – Inchiquin Cailin
Gale Force Seven
7
RPR – OR –
We were pleased enough with her first run. She over-jumped the second and made a little peck, but she might be the sort to get herself handicapped and we can move forward from there.
Eldorado Allen
5g Khalkevi – Hesmeralda
JP Romans and Terry Warner
1U-
RPR 133h OR 145h
He's a lovely horse with a bright future. His British debut at Sandown was eagerly awaited and he didn't disappoint – he jumped and travelled well and won easily. I don't think we've had a novice hurdler win like that for a long time, he bolted up. Then we went to Aintree and he was desperately unlucky, he just got knocked over and damaged his back leg. He's rated 145 on the basis of that debut performance so we will run in a handicap hurdle and work it out from there. He's back in now and cantering. He's a beautiful horse. I imagine he won't be ready until early December. He hasn't had masses of experience – he'll go chasing in time – but just for now we will run in handicap hurdles. He's exciting and could be anything.
Elegant Escape
7g Dubai Destination – Graineuaile
JP Romans
/121266-
RPR 167c OR 160c
He's looking well following his summer break. We aren't sure whether to target the Gold Cup or Grand National with him, but we're going to start him off at Wetherby for the Charlie Hall on Saturday and that could tell us more. He is an out-and-out stayer but that's what you need to be to win either of those races. If we went the National route we might look at the Becher Chase [Aintree, December 7] to give him a trial there, but if he was a Gold Cup horse we'd go to Haydock [Betfair Chase, November 23]. He's only got to improve 10lb and he would be a real Gold Cup contender and he is the right age to do that so we are hoping he has, but his owner is quite keen to take him to Aintree. In theory we could even try both, but it's all going to hinge on what happens at Wetherby.
---
Star quality
Elixir De Nutz
5g Al Namix – Nutz
Terry Warner
/F2111-
RPR 148h OR 153
He has grown and strengthened well during the summer, so we have high expectations for this season. He won the Tolworth last season but had a little injury a few days before Cheltenham, which means he's out until December. He is cantering at the moment and looks well. We plan on campaigning him for the Champion Hurdle, so we will run him in all of the trials just to see if he can move up another gear in that grade and hope he will be competitive. Last season was basically his first season racing and he won his last four races, including a Grade 1. He's one of the best hurdlers we have had although he's big enough to go over fences. He gains a length nearly every hurdle he goes over – he is fast and fluent – and he's got real ability and class. He will need to carry on from where he left off and improve again – he might not be in that league but there is every chance he could be. Nobody knows where these horses are going to end up.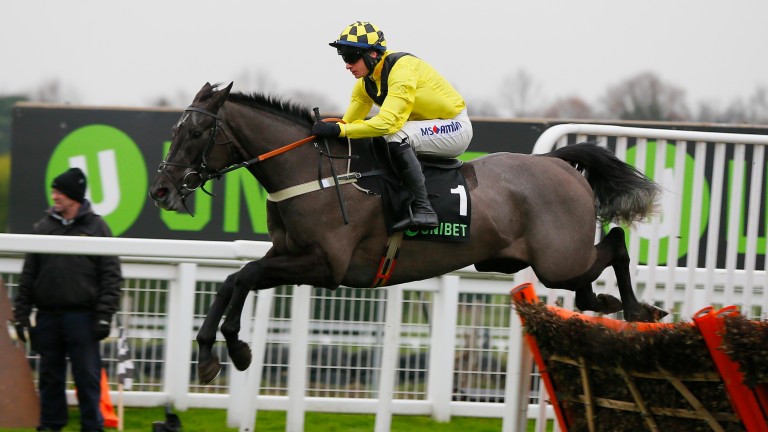 ---
Empreinte Reconce
5m Voix Du Nord – Petite Fille
JP McManus
25-3112
RPR 123h OR 126h
She's done well through the summer, winning twice, and she's improved from her wind op. She wasn't beaten far at Fontwell the last day, but she is up in the weights again which won't make things any easier for her. We'll stick to small handicap hurdles this season before going novice chasing next year. Hopefully she can pick up another one.
---
Dark horse
Faustinovick
5g Black Sam Bellamy – Cormorant Cove
Taylor & O'Dwyer
2-
RPR 113 OR –
We bought him at Aintree and he's a bit fragile. He had one run for us last season and finished second to McFabulous at Newbury. That was very pleasing and highly encouraging as he had traffic problems. That looks great form – as does his point-to-point second – and it would've taught him a lot. He's nearly ready to go. We're thinking of starting him off somewhere in the first half of November. He's one of our nicest novice hurdlers this season. We've had to be patient with him, but we are beginning to reap the rewards because he has filled out and looks a big, strong boy. We think a lot of him so hopefully we can expect a big season from him.
---
Fiddlerontheroof
5g Stowaway – Inquisitive LookTaylor, Burley & O'Dwyer
321-2
RPR 139 OR –
We chucked him in the deep end in the Persian War at Chepstow and we were delighted with him finishing second. He travelled really well and looked like he could win going towards the last two. Robbie [Power] got off him and said we could drop him to 2m. He is a gorgeous, big, strong horse and something like the Tolworth could be right up his street – especially with a bit of soft ground, which it usually does around Sandown. You'd have no worries about the trip because of the stiff track too. He likes galloping courses and can go either way around. I'd imagine we would look at a smaller race before looking at Sandown in the new year. He's a great horse to have and an exciting recruit to the novice hurdling team. He does everything asked of him easily at home and we're looking forward to the rest of the year with him.
Fly To Mars
5g Schiaparelli – Patsie Magern
Brocade Racing
62624F-
RPR 125h OR127h
He didn't manage to win over hurdles last season, so he remains a novice this season and we'll stay hurdling with him. His early season form was strong and he was in the lead before falling on his last start. He's had a tiny setback but he should be back mid-November. He shows plenty of ability and he's on a nice mark. We might aim him at the better novice hurdles this season.
---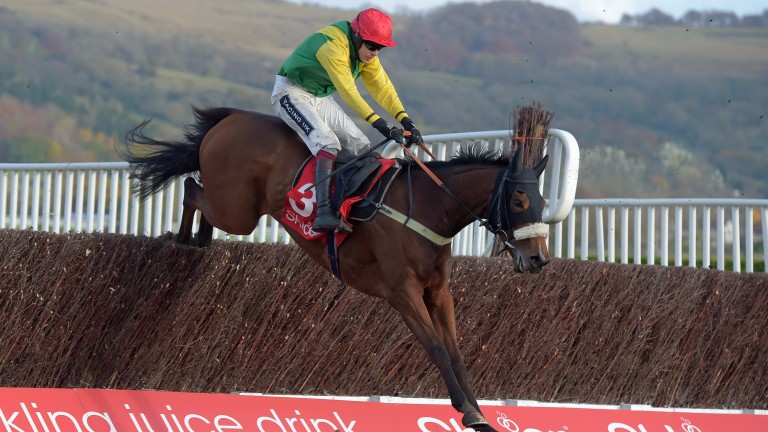 Star Quality
Fox Norton
9g Lando – Natt Musik
Ann & Alan Potts Ltd
1/12P/23-
RPR 174c 143h; OR 166c 145h
He's a classy horse on his day and we're hoping to have a clear run with him this season. He had two lovely runs last season bumping into Altior and Cyrname, who were the two top horses in Britain, but last year we were playing catch-up as he has been plagued with injury. This season he's had three months out in the field and the summer break will have helped him. He is only cantering and we don't have any targets, we just want a clear run and run him when he's ready. He won't be out until December. We won't be rushing him as we want him at all the festivals in the spring. He's a nine-year-old but he hasn't had that much racing – we've had two interrupted campaigns but this year he will have had the whole summer out so we're hoping for a big year. He's every bit as good – if not better – so he's got every chance of being a very good 2m chaser, I think we'll stick over 2m but we could go up to 2m4f too. People say the 2m chasing division is going to be open but everyone who has a two-and-a-half miler is going to switch back thinking Altior isn't there – but I think it'll still be very competitive.
---
Getaway Fred
5g Getaway – Cloch Anna
Victor & Celia Goaman
2
RPR 118h OR –
We bought him out of the Cheltenham sales and he's a good horse to go novice hurdling with. He put in a nice first run for us at Exeter where the right horse beat us, but he travelled and jumped well. You'd like to think he'd be winning a novice hurdle before too long – we were really pleased with his first run. He's showing us all the right signs at home and he's another of those nice young horses who could be anything this season.
Golden Sunrise
6g Stowaway – Fairy Dawn
Brocade Racing
2/P43-51
RPR 140c 128h; OR 125c 125h
He put in a nice performance the last day at Exeter. He was in too deep first time at Chepstow but he's a horse who tends to improve from his first run. The blinkers certainly helped him too. He travelled nicely and won the race well, he's grown into his body – he's only a six-year-old – so hopefully he'll keep developing now. I'm sure he'll be put up to the 130 mark so we'd have to look at some decent races. He's a good horse for staying handicap chases who's big and strong and can carry a fair bit of weight. We'll aim at those sort of long-distance races on big galloping tracks like Exeter and Chepstow, which should play to his strengths.
Harry Senior
5g Oscar – Surf Like a Lady
Brocade Racing
4
RPR 115h OR –
He's a beautiful, athletic individual with a real turn of foot. He had a first run for us when he was fourth in a decent-looking novice hurdle – that was 2m and I think he definitely wants stepping up in trip a little. We'll feel our way with him. He'll stay in that division and he looks like the sort of horse who will continue improving all season. He's a gorgeous individual with a very bright future.
Highest Sun
5g Sunday Break – Highest Price
Ashley Head
34210-3
RPR 138h OR 136h
He's had a good, long summer break and looks a proper horse to go novice chasing with. We ran him in a handicap hurdle last time, he came there to win his race but just got a bit tired from two out. I thought it was a great effort and he had some great form over hurdles last season too. We'll look at going over fences with him now. He's grown into a big, strong horse and he'll go over 2m and 2m4f.
---
Dark Horse
Investment Manager
3g Nathaniel – Two Days In Paris
Brocade Racing
Unraced
RPR – OR –
We bought him at the Derby sale and he looks a really nice horse. He's a sharp three-year-old – probably the sharpest we've had in a while – and we plan on running him in bumpers. He's very athletic and he works nicely at home so we're excited to get him started for the season.
---
Jeremy Sunshine
5g Jeremy – Tarastar
RM Harvey Bailey
7
RPR – OR –
He's another we bought at the Cheltenham May sale after winning an Irish point-to-point. He finished seventh on his hurdling debut at Wincanton on Sunday. He's a flashy-looking individual, not overly big but is quite athletic. He should be capable of winning races.
Kilbricken Storm
8g Oscar – Kilbricken Leader
A Selway & P Wavish
13/1600-
RPR 143c 154h; OR 150c 145h
He was disappointing last season but I think we're going to stick to hurdling with him this year. He won first time out and then he had a stress fracture of his pelvis, but he's a Grade 1 Cheltenham Festival winner so he shouldn't be forgotten. Sometimes horses have that brilliant year then the following season they half pay for it in that season. He is back in now and looks fit and well. We'll take him to those long-distance hurdles and hopefully end up in the Stayers' Hurdle. He's in full work now and we're looking to start him in the Long Distance Hurdle at Newbury on Ladbrokes Trophy weekend. He's in good form, we've ironed out a few little issues, so he certainly can't be written off this year.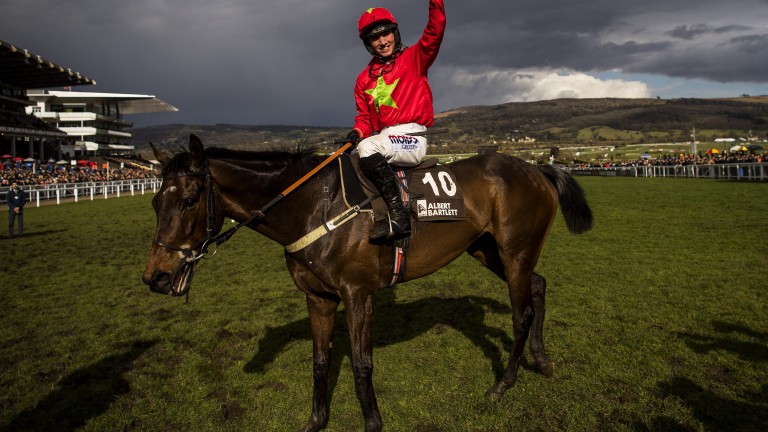 Kings Walk
8g King's Theatre – Shuil Sionnach
Jean R Bishop
4/3P328-
RPR 124c 124h; OR 120c 120h
He's still a novice but he's a solid horse to take handicap chasing. He ran some decent races last season but he's been quite hard to train all of his life. He doesn't have that many miles on the clock and I'd like to think he's more than capable of winning off his handicap mark. He's had a hobday procedure and he's built like a staying chaser. If we get a nice clear run with him then he definitely would be competitive. He deserves to win over fences soon.
L'Air Du Vent
5g Coastal Path – Bleu Perle
Brocade Racing
1-3
RPR – OR –
His bumper win at Bangor at the end of the season was a cracking run. He looks a beautiful young horse and, at this stage, he could be anything. We only got him 12 months ago but he's really filled out and grown, he's a much stronger horse. There's everything to like about him, size, speed and a good attitude. He's one of our top novice hurdlers this season and that's what he'll do this year. He finished third at Cheltenham on Saturday and Robbie [Power] said he was a pretty green but it was only his third run. We're happy with him and he looks like a chaser in the making. He would have learnt a lot from that run and improve a fraction for it.
Lillington
7g Westerner – Kind Word
The Colin Tizzard Racing Club
8211P-6
RPR 135c 117h; OR 133c 103h
He's our racing club horse and has done them all proud winning five times last year. After the second one we thought the handicapper had got hold of him but he kept improving. He's made himself a Saturday horse now so I am sure the club are going to have some great fun with him. The ground was plenty quick enough the last day for him and he's handicapped off the back of that form. He'll probably have a bit more of a chance now and as the ground get softer it will suit him. There's nothing to suggest he won't stop improving.
---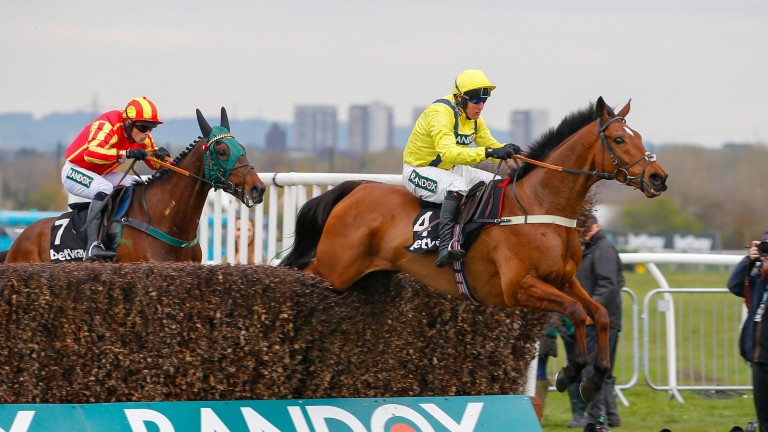 Star quality
Lostintranslation
7g Flemensfirth – Falika
Taylor & O'Dwyer
/231221-
RPR 165c 151h; OR 161c 149h
Our target is to get him to the Gold Cup in good form. He's a big, strong, heavy horse and it's lovely to have him. When we had Cue Card, Native River and Thistlecrack I never thought we'd have one as quick as him. He's got it all to do still, but looks like he's progressing and I hope he can take one or two of those races. He had top-class form last year, he's a huge hunk of a horse. He has still got to improve to win a Gold Cup but this is his time. There's only one chance to go for an intermediate chase, so we're looking at starting him off at Carlisle [Colin Parker Memorial on Sunday], the rest of the time he'll be taking on the best. He can go up there over 2m4f, which he has good form at, then we will go to the Betfair Chase and King George. Everyone makes the fact that he won quite cosily at Aintree over 3mbut he didn't have as much as a slog as Topofthegame [won the RSA], so he may have been over the top while we had a fresh horse. He's a gorgeous horse and we're looking forward to seeing how far he can progress this season.
---
Master Debonair
5g Yeats – Swincombe Flame
The Gosden Mob & SprayClad UK
12105-2
RPR 122h OR –
He goes into this season on his bumper form as our top novice hurdler. He was a Listed winner around Cheltenham and he beat Thyme Hill who won the Persian War the other week, so his form is bang on. He disappointed at Cheltenham and Aintree so we have had his wind tweaked during the summer. He's schooled really nicely. We were happy with his second at Cheltenham but he just got a bit tired. He travelled plenty keen enough over the first half-mile and paid for it after the last, but it was a lovely first run over hurdles and we're excited with him going forward. He's a good-looking, leggy, athletic horse who we expect to climb through the ranks as the season progresses. We think he's a Supreme horse, he's a smart boy and we're really excited by him this season.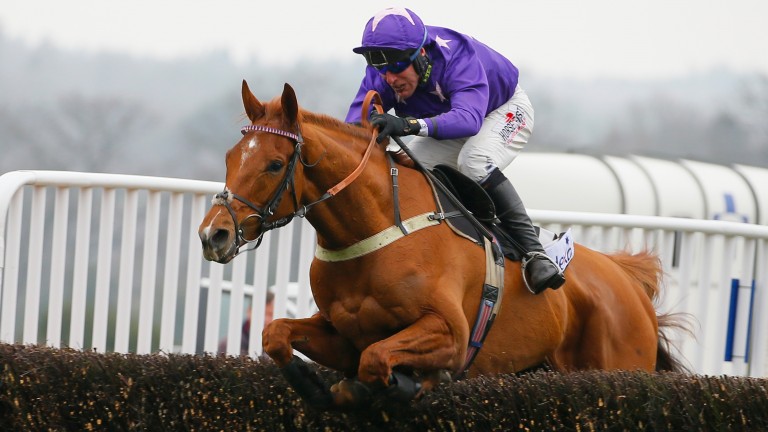 Mister Malarky
6g Malinas – Priscilla
Wendy & Malcolm Hezel
/131142-
RPR 154c 124h; OR 150c 126h
He's rated 150 and his main target is the Ladbrokes Trophy [November 30, Newbury]. I think he'll follow a similar path that Elegant Escape took last year, starting off at Sandown in the Future Stars [Intermediate Chase, Sandown November 11] before Newbury and then hopefully the Welsh National. He ticks all the boxes for those races – he's a second-season chaser, a strong galloper and stayer and he's got a very similar profile to Native River and Elegant Escape. His form is great, the RSA fourth looks real strong form and his second at Aintree was solid. I think he's improved through the summer and he's a good chap to have going forward.
Molineaux
8g King's Theatre – Steel Grey Lady
John & Heather Snook
U12369-
RPR 137c 130h; OR 130c 128h
He's a really consistent horse. We'll start him off in some handicaps over 2m4f within the next few weeks. He had some decent form last season and he's a quality 130-rated chaser. He's a light-framed, strong-travelling horse who enjoys good or good to soft ground. On his day, when the conditions are right, he can pick up his share of races.
Mount Rushmoore
7g Shantou – Knock On The Door
Jenny Perry and Celia Goaman
224/7PP-
RPR 128h OR 120h
He cracked his pelvis the last time he ran but he's back in now and looks great. He's schooling away nicely at the moment, he's a big heavy horse who wants a bit of cut in the ground and would be suited to a galloping track. We should have him out by the middle of November and we'll probably go novice handicap chasing with him. He's got a bit of attitude but he's got ability.
Moving Day
4g Getaway – Little Demand
The Reserve Tankers
Unraced
RPR – OR –
He's got the same owners as Reserve Tank and, like him, we're thinking of going novice hurdling with him straight away. He's not run yet, although he was due to run in an Irish point-to-point last season. He was bought privately for nice money and he goes well at home. He's shown enough at home to suggest he could win a good race this season.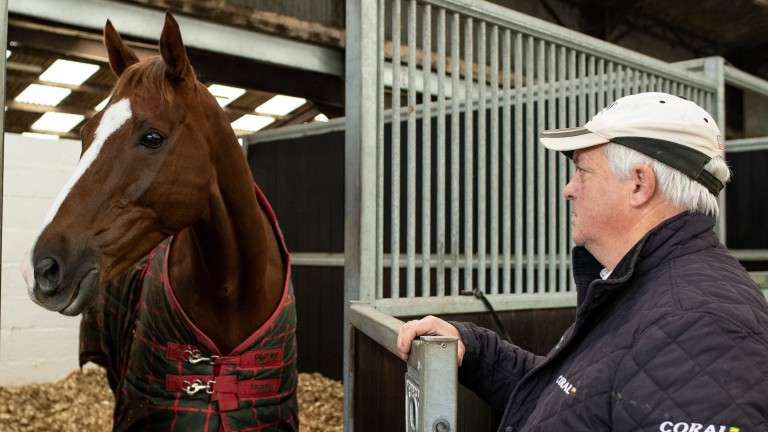 ---
Star quality
Native River
9g Indian River – Native Mo
Brocade Racing
3/11/234-
RPR 177c 151h; OR 167c 153h
He's taken us to five Cheltenham Festivals and won a Gold Cup, you can't knock him. He'll needs some nice, wet springs and nowadays, because of his rating, he need soft ground because he is taking on the best horses. He will be ready early November, so we might start him off in the Many Clouds Chase on the first weekend of December and then we would keep our options open for Boxing Day. The Betfair Chase will come a bit soon for him, although I've watched Haydock being abandoned and thinking it would be soft so we should be there, but we don't have time to get him ready for it. He could go for the Welsh National or, if the ground is right, he could go to the King George – he came third there last year. Stamina is his forte and we know he stays the Welsh National trip and carry top weight, but that was off 155 and now he's rated 167 so it's a different job altogether. There's also Ireland but the owners don't like flying. They've got their passports so maybe it is an option. The Irish horses will be kicking in by then and their best horses run in that race so it won't be easy – if we can keep him in Britain we will. We'd then have one more run before the Gold Cup. His training is moving up through the gears now.
---
New To This Town
8g Milan – Jade River
Ann & Alan Potts Ltd
40/12/48-
RPR 131c 135h; OR 128c 132h
He's probably highly enough handicapped on what he has done recently but hopefully he can pay his way. He was a bit disappointing last time at Haydock in January but some of ours weren't right then and he's had a long holiday since. He tends to save a little bit for himself and he'll continue going handicap chasing.
No Hubs No Hoobs
3g Flemensfirth – Miss Brandywell
Taylor and O'Dwyer
Unraced
RPR – OR –
He's a brother to a 137-rated chaser [Killer Miller] and we bought him at the Derby Sale in Ireland. He's a 3m chaser in the making, but he's got enough class to achieve some good results before that. He is a little bit backwards at this stage but he's expensive and is a nice prospect for the future.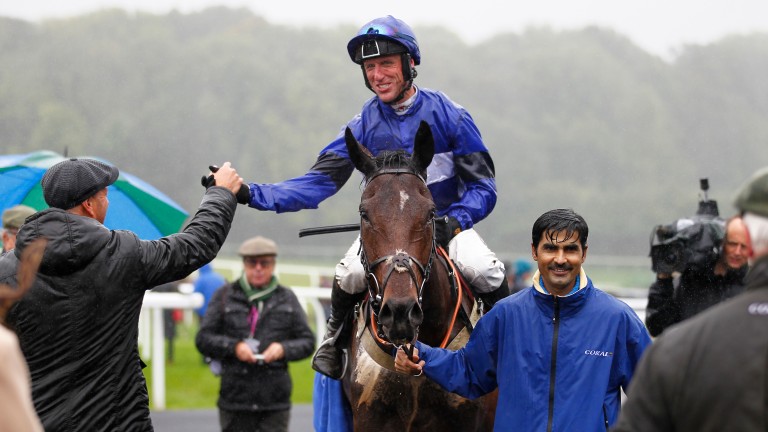 Ofalltheginjoints
5g Stowaway – Dinos Luso
The Reserve Tankers
1
RPR 120h OR –
We bought him at the Punchestown sales and then he won nicely at Chepstow. I think he'll probably want stepping up to 2m4f. He's always been a nice horse but we weren't expecting him to win first time, so he's already achieved a fait bit. We'll work our way with him this year but he could develop into a nice prospect. He does everything right at home.
Oscars Moonshine
4g Oscar – Scrapper Jack
Mrs Elizabeth Lane
5
RPR 107b OR –
We were happy with his debut when he was fifth a few weeks ago, it was a nice run and he stayed on well when the penny dropped. We'll probably go novice hurdling with him now but he's got plenty of ability and works well at home. He should have a bright future.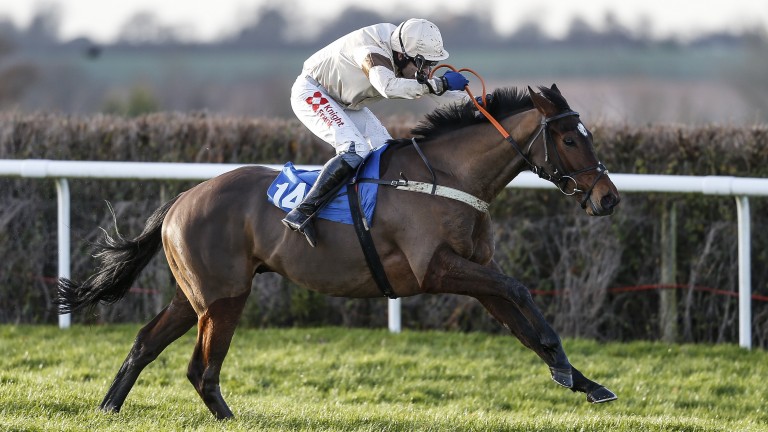 Padleyourowncanoe
5g Nayef – Pooka's Daughter
Kevin Corcoran, Aaron Pierce, Chris Weare
36108-1
RPR 134c 141h; OR 140c 140h
He dotted up in his first novice chase, which was lovely, and he is a solid 140-145 chaser. He came to us rated 60 on the Flat, but then he improved and finished placed in the Fred Winter. He's a good boy and he jumped beautifully at Exeter, so we'll have a look at Cheltenham with him. He's a nice novice chaser and he could be anything.
Pingshou
9g Definite Article – Quest Of Passion
Ann & Alan Potts Ltd
550-122
RPR 144c 149h; OR 140c 140h
He missed the whole of the previous season and we got him on the track last winter, but the transformation in his form has been summer jumping on better ground. He's had a great campaign although his form has faded off a little bit. He has been fragile to train all of his life. He was Grade 1-winning hurdler not too long ago but he hasn't reproduced that level of form again. He has done his running through the summer, so he'll have a bit of a break through the winter now.
Quite By Chance
10g Midnight Legend – Hop Fair
T Hamlin, JM Dare, JW Snook, JT Warner
8483P4-
RPR 153c 117h; OR 123c 114h
He's been a great horse for the yard and has been really consistent. He isn't getting any younger so we're going to go hunter chasing with him. His best performances tend to come over an extended three miles on good ground. We've had some great days out with him but hopefully there's a few more to come.
Rarest Diamond
5m Milan – Lace Parasol
The Colin Tizzard Racing Club
6
RPR 95b OR –
She ran well at Ffos Las on debut and had some decent point-to-point form. She's owned by the racing club and looks a nice prospect for the season ahead in novice hurdles.
---
Dark horse
Rectory Oak
4g Oscar – Betty Roe
Mrs G C Pritchard
2
RPR – OR –
He ran a lovely race first time out, finishing second in a decent-looking bumper at Exeter in May. That was very pleasing, he led from the home bend but was headed in the final furlong and the winner [Story Of Friends] has won again. He has schooled well and we'll be disappointed if he doesn't have a good season. He's filled out over the summer and we like him a lot. We're starting off in a novice hurdle somewhere soon, I think he's a nice young horse going forward who could have a bright future. He's one to watch.
---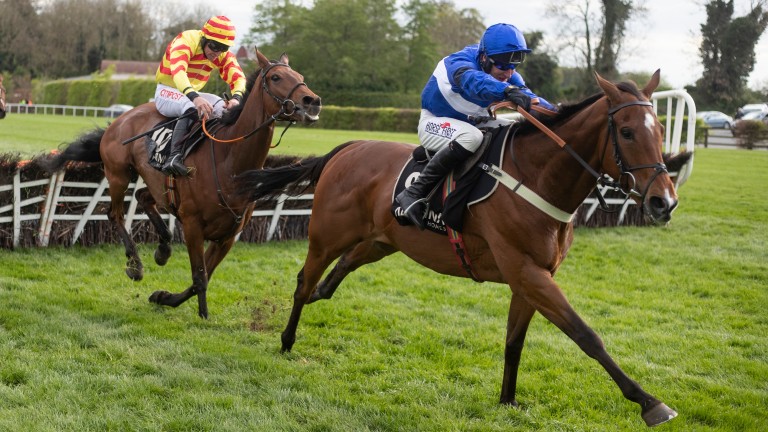 Star quality
Reserve Tank
5g Jeremy – Lady Bellamy
The Reserve Tankers
7111-12
RPR 145c 151h; OR 151c 151h
He was just beaten by a better horse [Jarveys Plate] on his return at Chepstow. You never know if horses are fully wound up first time out. He's an athletic horse who does everything easy at home and those are the sort of horses you need to push a bit more to get them fitter. He travelled so well, so maybe he just needed the run. The horse who beat him nearly beat Elixir De Nutz last year so in his own right he is a very good horse. Reserve Tank has come out of the race well and we're looking to go to the Rising Stars at Wincanton on November 9 and that should be ideal for him. He surprised us last year, when he ran him first time at Chepstow and he finished third and we were happy, thinking he could win a handicap of 115 but he just got better and better – that's the beauty of racing really. We've got in our minds that his best form came on spring ground but that doesn't mean we can't run him in the winter. I think he could come back in trip. We did think he'd go up through the gears but he travelled so well at Chepstow. I think 2m4f is his optimum trip at this point. We still think he is a very good horse.
---
Robinsfirth
10g Fleminsfirth – Phardester
Christine Knowles & Wendy Carter
U/421/21-
RPR 159c 141h; OR 153c 135h
He's always been a seriously good staying chaser but has been a bit fragile throughout his career, so we have to be mindful. He raced only twice last year and Sean Bowen gave him a cracker when he won the Peter Marsh. He is going to be aimed at the Ladbrokes Trophy although we will probably start him off over hurdles – either at Wetherby [West Yorkshire Hurdle] on November 2 or a handicap at Newbury five days later. He'll be aimed at all those big staying chases.
Rockpoint
6g Shirocco – Tinagoodnight
John and Heather Snook
14607-4
RPR 137h OR 133c
He won the Albert Bartlett trial and we hoped he would progress but his form tailed off slightly in the second half of the season. He was a Grade 2 winner at Cheltenham last season and we're confident he can translate his form over fences. Robbie [Power] said he was building his confidence as the race went on when fourth on Saturday and he was saving a bit for the finish, which he did. He jumped better as the race went on. He'll be ridden more positively next time and he should improve for the run. We'd like to think he'll go close next time out. He probably wants good to soft ground over a 3m trip so we're hoping he could develop into an RSA horse this season. He is a much bigger, stronger horse this year and we're quite excited by him.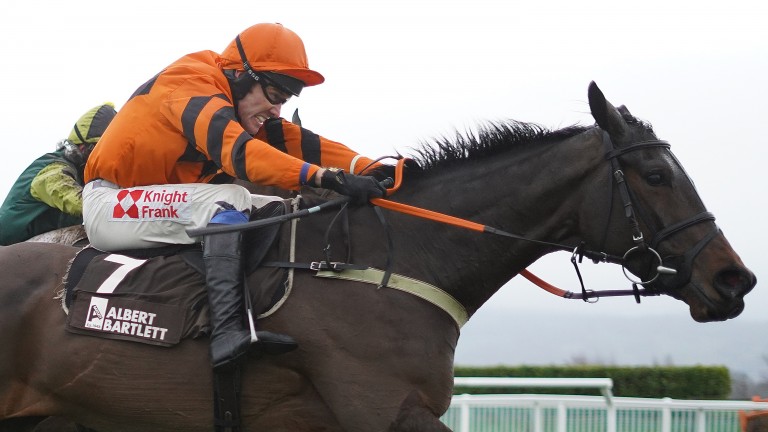 Royal Crown
4g Creachadoir – Royal Army
The Wychwood Partnership
4
RPR 104b OR –
We bought him at the Goffs UK Aintree Sale after finishing second in an Irish point-to-point. He's always looked a nice horse, he ticks a lot of the boxes we look for and does everything asked of him at this stage. He finished fourth on his first run for us and I thought he was in a pretty hot novice hurdle – it certainly looked very good on paper – but he ran his race well and it won't be long before he's winning.
Royal Vacation
9g King's Theatre – Summer Break
Jean R Bishop
/2614P-5
RPR 156c 136h; OR 146c 138h
He's a solid old horse but on his day he can be quite good. He's a nine-year-old going on ten, so we can look at veterans' races next year. I'd say he is handicapped up to his best but we'll keep running him in those long-distance handicap chases. He's capable of running well in all the big staying chases on good to soft ground again this season.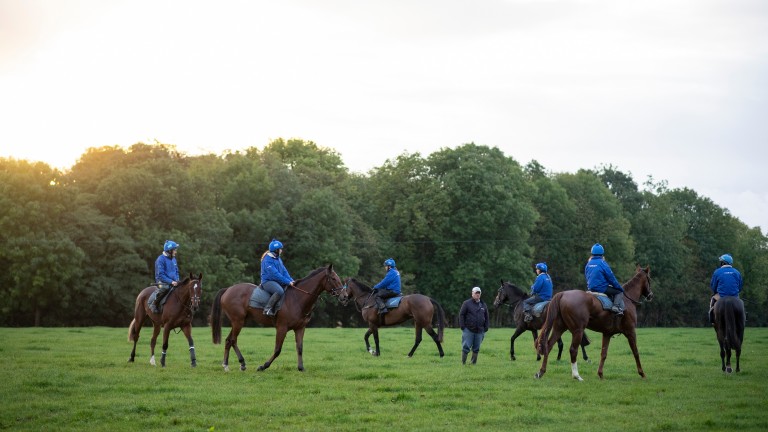 Sandy Beach
9g Notnowcato – Picacho
Brocade Racing
2/15P39-
RPR 138c 114h; OR 123c 127h
He was third in the Devon National at Exeter but you can ignore his last run. He'll contest long-distance chases on softish ground but he's had a wind operation recently so we won't see him until late November. He's a big, strong nine-year-old who should have a good season.
Shanahan's Turn
11g Indian Danehill – Chanson Indienne
Alan & Ann Potts Ltd
/3786U2-
RPR 154c 140h; OR 122c 129h
He's a bit in and out but he is probably down to a mark he's capable of running well off. His best result last season was his last run when second on good ground at Chepstow, although two of the four runners pulled up. He goes particularly well fresh and he'll be on the go in 2m4f handicap chases this season.
Sizing Codelco
10g Flemensfirth – La Zingarella
Ann & Alan Potts Ltd
8/20PP-5
RPR 162c 144h; OR 147c 144h
He's slipped down the weights a bit but his mark is still quite high. He's probably capable of running well off it but he isn't getting any younger. He won off 154 but he keeps putting in decent performances so his mark doesn't drop. He's a big horse and takes a bit of work to get him fit, but he is a solid staying handicap chaser. He's not scaled the heights of previous years but he's more than capable if he's willing. He's quite a character with a quirky way of racing – an all-or-nothing type. He prefers better ground and we're probably looking at going hunter chasing with him in the new year.
Sizing Granite
11g Milan – Hazel's Tisrara
Ann & Alan Potts Ltd
3P43112
RPR 162c 142h; OR 148c 140h
He's had a hell of a summer and we've been chuffed to bits with him. He's improved majorly and it might be down to the new gallop which he seems to enjoy working on. He's been really consistent and has won some nice pots too. He's going to have a break through the winter and he should be back next spring.
Sizing Platinum
11g Definite Article – Guest Of Passion
Ann & Alan Potts Ltd
U01-F31
RPR 156c 130h; OR 151c 135h
He had soft palette cautery before winning nicely the last day at Worcester, but he's since had a little setback so we're not sure when he'll be back. He needs a bit of good ground and he goes well fresh. He's an 11-year-old now and nearing the end of his career, but it's great that he can still be competitive in decent races.
Sizing Tara
6g Kayf Tara – As Was
Ann & Alan Potts Ltd
644114
RPR 119h OR 117h
He's won two this season before running okay when fourth at Exeter. We might go chasing, but I think we'll try to win another hurdle race first which I think he can do. He's not overly big but he's capable and has a great attitude.
Slate House
7g Presenting – Bay Pearl
Eric Jones, Geoff Nicholas, John Romans
8/4528-1
RPR 137c 145h; OR 135c 141h
We gave him a long summer break on the grass after his run in the Arkle and he benefited enormously from it. He strengthened up and looks a proper chaser for the season ahead – he's also had a full hobday procedure coming back into work. He's still a novice over fences and we think he's on quite a workable mark. He looked seriously impressive on Saturday. We felt he was somewhere near his best before the race but we weren't expecting a performance like that. He was really good, on that ground results can get exaggerated a bit but take nothing away from him he jumped and stayed well so we're chuffed to bits for him. The BetVictor Gold Cup on November 16 has been his target and he'll be getting an entry, but it'll be interesting to see what the handicapper does with him. He's still a novice so we could stick to that route.
---
Dark horse
The Big Breakaway
4g Getaway – Princess Mairead
Eric Jones, Geoff Nicholas, John Romans
Unraced
RPR – OR –
He was an expensive buy at Punchestown [festival Goffs] after winning a good point-to-point and he does everything we ask of him at home. He's going to start off in a novice hurdle, possibly at Wincanton, and I would think 2m4f would be his trip at the moment. He works beautifully at home, looks exceptional and schools brilliantly, so we are excited by him going forward – we just have to remember he's only a four-year-old with a bright future so we don't need to rush him. He's a big horse, too, so we'll make sure to look after him but he's an exciting addition to the team.
---
The Russian Doyen
6g Doyen – Namloc
The Gosden Mob
16/1514-
RPR 139c 136h; OR 140c 138h
He had a good season last season, finishing fourth at Cheltenham [Close Brothers] beating all the other English horses. He's going to go to the Haldon Gold Cup first, it's a nice starting point and that's been the target for him all summer. We'll think about stepping him up to 2m4f after that, but a stiff 2m around there in a limited handicap, and first time out, will be perfect for him.
Theatre Guide
12g King's Theatre – Erintante
Jean R Bishop
/0022-63
RPR 160c 127h; OR 140c 149h
He's going to go in all the veterans' races throughout the year and he finished third at Aintree on Sunday. He's been a brilliant, Joe [Tizzard] was placed on him in the Hennessy [Ladbrokes Trophy] so that shows how long he's been around. He's a 12-year-old now so this will be his last season but I think he will be competitive in those Veterans races, they're perfect for him.
---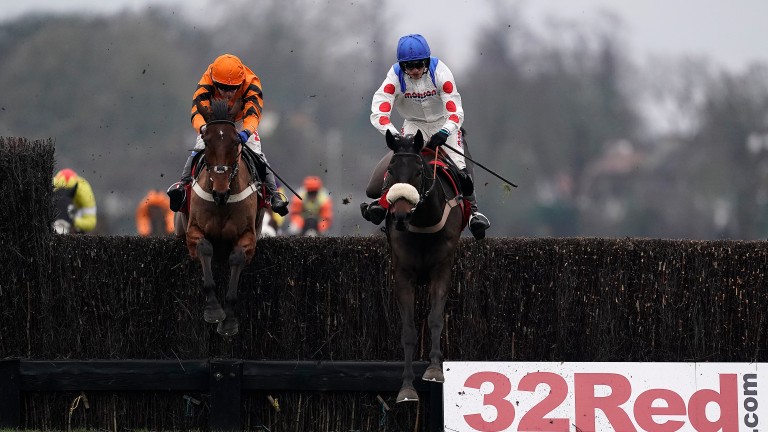 Star quality
Thistlecrack
11g Kayf Tara – Ardstown
John and Heather Snook
2/54/32P-
RPR 174c 178h; OR 167c 167h
He's done some prep work and is back in training now. He looked as though he was going to win the King George but he got outstayed so we think he's still got it. There's a chance he will start back over hurdles and, if he's as good as he was before, we could stay over hurdles and aim him for the Stayers' Hurdle. As he gets older we aren't ruling out the hurdles route. We will give him a hurdle run then decide whether to stay or go back to the King George.
---
Ultragold
11g Kapgarde – Hot d'Or
Brocade Racing, J P Romans, Terry Warner
1/435P0-
RPR 152c 112h; OR 146c 137h
He's going well. We'll have a run somewhere before going back to Aintree for the Becher Chase on December 7 – he comes alive over those fences. We'll have a look at possibly starting him at Cheltenham in November. We ran him in the National last season where he ran well [14th] and he ticked all of the boxes for that race apart from the distance. This year he'll run in the Topham again – he loves that race – so this year will be about getting him spot on for it.
Vision Des Flos
6g Balko – Marie Royale
Ann & Alan Potts Ltd
52310-6
RPR 151h OR 153h
He improved as the season progressed last year. We went chasing last year and he did nothing wrong on his chasing debut he just landed a little steep and unseated Tom Scudamore. He improved over hurdles and had a wind op in January – and if he hadn't made a mistake at the last at Punchestown [Champion Stayers Hurdle] he would have been either first or second which was a great run in a Grade 1. We're excited to go novice chasing with him, he stays well, so we're hoping he can develop into an RSA horse.
War Lord
4g Jukebox Jury – Westalin
The Wychwood Partnership
5-1
RPR 106h OR –
He showed a really good attitude when winning at Plumpton, so we were pleased. He'll appreciate the step up in trip, but it was a lovely introduction over hurdles and it was a cracking effort.
West Approach
9g Westerner – Ardstown
John and Heather Snook
22966-2
RPR 148c 155h; OR 140c 150h
He had great form over fences and hurdles last year, finishing fifth in the Ladbrokes Trophy and was twice runner-up to Paisley Park over hurdles. I think we're going to mix between fences and hurdles this year. He ran a lovely race at Cheltenham on Saturday. He looked as if he was going to win everywhere between the last two but finished second. He may have needed the run a little bit, but it was still a good run. I keep saying it but one of those big races is going to fall into his lap, he's so consistent and you can't really fault him. He's best over 3m and is a good solid stayer, he'll be a veteran next year, too, which gives us a few more options. We're sure he's got a big win in him this year.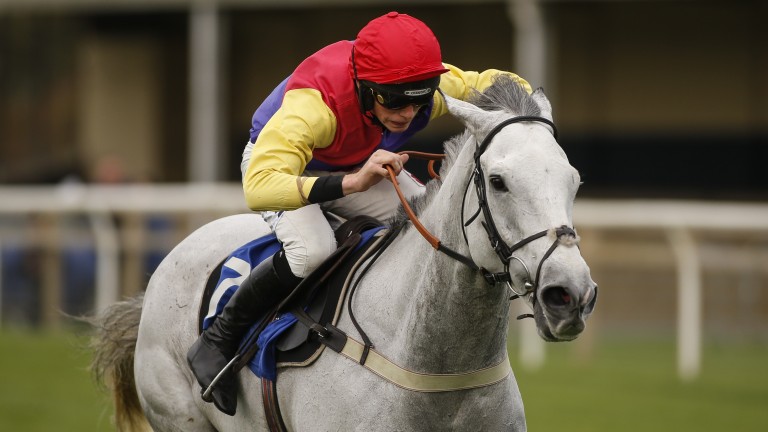 ---
Dark horse
White Moon
7g Sholokhov – Westalin
Brocade Racing
/F5144-F
RPR 142c 132h; OR 137c 137h
We've always held him in high regard. He looked to have every chance on his chasing debut at Cheltenham last year but fell at the last which slowed down his season a little but he bounced back and won at Exeter on New Year's Day. He had a hobday procedure over the summer. He was in the lead when falling at Wincanton on Sunday. Hopefully he can land a nice pot this season.
---
Who Shot Jr
5g Scorpion – Ariesanne
Wednesday Night Syndicate
93-
RPR 108b OR –
He improved massively from his first to second start last season when third in a bumper over 2m4f at Fontwell. He was clueless first time but the penny dropping late on at Fontwell so it was encouraging. He's working and moving well at home and we will start him off in a novice hurdle at Chepstow soon. He looks the finished article now, so we're looking forward to getting him started.
---
Race in focus
The Ladbrokes Trophy is one of the big early season targets for us and we have a number of horses we plan on taking there. Robinsfirth would have a decent chance if the ground is right and Mister Malarky has the perfect profile for the race. We could also run Elegant Escape.
Rival to watch
Cyrname. You can't take anything away from that Ascot Chase win, he was brilliant. The form looks red-hot too with Waiting Patiently and Fox Norton and he could be a very good chaser this season. He could be a Gold Cup contender.
Tizzard on Altior stepping up in trip
I think he should stay 3m no problem. They go flat out over 2m so to win a Champion Chase you've got to stay well. He's one of the best chasers we've seen for a long time and when you look at horses like Kauto Star and Desert Orchid, they're so good they can win over either trip.
Two for the tracker
I like White Moon and he can keep improving this season, while it's great to have a Nathaniel in the yard and we think Investment Manager is a nice prospect.
---
Expert View
Although its connotations in popular culture are usually positive, the story of King Midas is a cautionary one at its heart. Colin Tizzard may soon know the feeling. It is evident that an increasing number of talented individuals are coming into his growing yard and, moreover, stable history as well as the background of some of those new recruits tells us that the majority will end up as smart staying chasers.
Tizzard could virtually 'do a Vertem' in dominating the Ladbrokes Trophy – last year he had the first, second and fifth. It seems the stable's main hope for this year's race is Mister Malarky. He's just the type for that race and, perhaps especially, the Welsh National. When put into top races last season, he continually left the impression that he will get better the further he goes.
Elegant Escape is another mooted for Newbury and how he is campaigned this year will be fascinating. There is something about him that is reminiscent of Many Clouds, who looked made for the Gold Cup until Cheltenham revealed his fairly one-paced nature. Flatter Aintree, of course, was just his thing and Elegant Escape could fit into the same category. He certainly would not fail for a lack of stamina in a Grand National.
With so many similar types at Tizzard's disposal, novel race-planning will become a necessary skill and it is surprising to see so few being considered for races in Ireland, even France. The Savills Chase at Leopardstown, for example, feels like a more suitable Christmas target for Native River rather than the King George (for which the yard will have Lostintranslation) or Welsh National (take your pick), for all his presence in the latter would be a major talking point.
There are plenty just below the top level, too. West Approach can pick up place money in top hurdle races, but as his trainer says there's a big handicap chase in him off 140 and he might have shown it at Cheltenham on Saturday but for the rain-softened ground. This horse is best up to 3m, so don't give up hope just yet.
Similarly, Sizing Codelco had the look of one who was finally getting a break from the handicapper. His hunter plan means he may not be able to run in handicaps near to hand, but there is always the spring, which in 2017 gave rise to the performances for which he has suffered since.
Another sign of increasing quality from the yard is the small but notable band of high-quality hurdlers and, to a lesser extent, a gradual improvement in returns from bumper horses. L'Air Du Vent was one of just three bumper winners for the yard last season and is bound to be a Graded contender in novice hurdles this season.
It is a shame that neither Elixir De Nutz nor Eldorado Allen will be out before December. Both looked likely types for the Greatwood, with which their respective owner/joint-owner Terry Warner is forever associated thanks to Rooster Booster and Detroit City. For all we talk about Tizzard's Gold Cup types, it would be no surprise at all come March if he ends up with a runner or two in the Champion Hurdle.
Keith Melrose