The good news is that Alan King is about to celebrate his best year on the Flat in prize-money terms, with over £630,000 banked and several weeks of the season still remaining.
The not so good news is that two contributors to that haul, Cambridgeshire second Beringer and smart handicapper Trueshan, who between them have netted £200,000, will not be going hurdling but kept for more valuable pots on the Flat next year.
"It's true our jumping squad is potentially a bit weakened as a result," says King, "but it makes sound business sense. We are down slightly in numbers compared to last year, but I hope there are some lovely prospects coming through."
Here he may be thinking of novice chasers Deyrann De Carjac, Lisp, Who Dares Wins and Alsa Mix, and this is the area in which he looks strongest this winter.
Sceau Royal, of course, continues to valiantly fly the flag for Barbury Castle, but don't be surprised if The Glancing Queen (recovering from a small setback) is also helping to keep the trainer's name in lights come the spring.
---
Stable profile
Yard Barbury Castle Stables
Where Wroughton, Swindon, Wilts
Started training 1999
Horses in yard 120
Members of staff 45
Assistant trainers Dan Horsford, Olly Stevens
Head lads Stuart Messenger, David Stratton, Gary Mew
Pupil assistant Robin Smith
Assistant head girl Lucy Dickin
Spa and salt room manager Caroline Schofield
Travelling head lad/head lass Mark White, Tim Dennis, Sarah Burness
Jockeys Tom Cannon, Tom Bellamy, Alexander Thorne
Amateurs Max Browne, William Thirlby
Lady amateur Georgia King
PAs Charlotte Plunkett, Jackie Ferguson
Stable sponsor HARE
Website alankingracing.co.uk
---
Jump winners in Britain
2018-19 91
2017-18 58
2016-17 104
2015-16 68
Profit/loss to £1 stake
2018-19 -£156.32
2017-18 -£133.86
2016-17 -£77.18
2015-16 -£120.54
Total prize-money 2018-19 £1,259,316
---
Alsa Mix
Seven-year-old mare Al Namix (sire) – Lady Tsana (dam)
Owner: June Watts
Form: 1(point-to-point)/1116P-1
Racing Post Rating: 133 (chase) 
Official Rating: 132 (chase)
I hope we have a decent team of novice chasers for this season and this is the first of them. Her schooling had gone fine so we started her off at Bangor last week over an extended two-mile-one and I was really pleased with the way she knuckled down; I didn't want to go any further first time in that testing ground. She was one of our best novice hurdlers last season, having won a Grade 2 at Sandown, but the heavy ground that day may have taken more out of her than we realised, causing her to lose her way a bit later on. She'll be back up to 2m4f next time and she should have a decent season in novice chases.
Azzerti
7g Voix Du Nord – Zalagarry
McNeill Family and Prodec Networks
1F17P-1
RPR 141c OR 135c
I had to be delighted with his Newbury win the week before last as he usually improves for a run. He was his own worst enemy last season in that he could get very wound up. What really pleased me was how well behaved he was; we took the precaution of taking him for just one circuit of the paddock beforehand and then he was straight out on to the track. We'll look at Ascot at the weekend although that might come a bit too soon, and for the moment I'm happy to stick to 2m4f although now he relaxes better he might not only get 3m but actually be better for it.
Ballywood
5g Ballingarry – Miss Hollywood
Highclere Thoroughbred Racing – Ballywood
11214-U
RPR 153c OR 147c
Enjoyed a good first season over fences. He was very fresh and gassy on his return at Ascot, got lit up going past the stands and galloped into the bottom of the downhill fence. He schooled absolutely fine last week so we'll look at the Hurst Park Handicap back at Ascot at the weekend and there's also Newbury the week after. A lot will depend on what the weather does as all his wins for me have been on good ground and there hasn't been much of that around of late. I like to think there's a good 2m handicap to be won with him and, being only five, there's every reason to hope he'll improve again.
Blacko
3g Balko – Ascella
Apple Tree Stud
Has only just arrived from France so I don't know too much about him yet. He was placed over hurdles at Lyon last month and will obviously join our squad of three-year-old hurdlers.
Canelo
6g Mahler – Nobody's Darling
JP McManus
25141/3
RPR 129c OR 127c
He was nearly ready to run two or three times last season but kept getting little niggles so in the end we gave up. Considering he'd been off the track a year and a half he ran very well on his chasing debut at Sandown this month, on what was testing old ground. He's come out of it fine so I hope it's onwards and upwards over fences.
Colditz Castle
5g Getaway – Stowaway Sue
Charles Dingwall and Tony Morris
U342-6239
RPR 118h OR 117h
Was a bit weak physically last season but there were definite signs of promise in his third in a handicap hurdle at Worcester; Tom [Cannon] had him down the inside and they were going nowhere, but when he was pulled out and saw some light he ran on well. So we're going to change tactics a little and allow him more daylight. Unplaced at Cheltenham on Sunday but I hope it won't be too long before he gets his head in front.
Deyrann De Carjac
6g Balko – Queyrann
J Law
F225-11
RPR 147c OR 137c
He's a horse I've always loved and I think after his latest victory you can see why. Over hurdles he was bumping into good ones last season but it was always the plan to start him chasing in the summer. He bolted up at Cartmel – it tipped down the night before and had we been closer to home I'd have pulled him out but I thought Cartmel was a long way to go and not run. After a summer holiday we brought him back this month in an above-average novice chase at Huntingdon and he looked good, jumping accurately. He's not one to over-race and will benefit from a bit of time in between races; we might look at the 2m4f Graded novice chase at Newbury next week. He'll probably stick to that trip for now, and while I'm not speculating how high he might go this season, he'll be contesting decent races.
Dingo Dollar
7g Golden Lariat – Social Society
M Warren J Holmes R Kidner and J Wright
4362P-3
RPR 155c OR 146c
Considering he'd done very well over the summer and needed an unbelievable amount of work to get fit, I was pleased with his comeback over hurdles, in the same Newbury race we used last year as a prep for the Ladbrokes Trophy. He ran a good race to be third in that and I'm sure would have finished even closer had it not rained heavily the night before. We could now go back to Newbury at the end of the month and try again or wait for the Becher Chase. His owners are keen to go for the National so a spin over the fences would tell us if he likes them. He's not a proper winter horse as he doesn't want bottomless ground and he's best going left-handed. Doncaster is a track that suits him well and we could be heading back there at some stage.
Edwardstone
5g Kayf Tara – Nothingtolose
Robert Abrey, Ian Thurtle
222-1
RPR 131h OR –
We hope he's one of our better novice hurdlers. He'd been working very well since we stepped him up this autumn and I was expecting him to run well, though not necessarily win, at Wincanton the other day, so what he did delighted me. He did a lot that was wrong, too, tanking through the first part of the race, so to find what he did he must be very useful. And they were some well-regarded horses behind him too. There's nothing for him at Newbury next week so we'll possibly look at an Introductory hurdle at Ascot next month and take things from there.
Elgin
7g Duke Of Marmalade – China Tea
Elite Racing Club
7/411615/
RPR 155h OR 158h
It's great to have him back. He was in great form a couple of seasons ago, when winning the Greatwood and the Kingwell. He's just trotting at the minute as he had to have a small wind op that has held us up a bit, but he should be back after Christmas when he'll contest some conditions hurdles, like the Kingwell again.
Escapability
4g Excelebration – Brief Escapade
S Love, H & C Barrett and D Gibbon
6
RPR 86h
Came to us off the Flat from Jessica Harrington. I thought he'd win on his hurdling debut at Wincanton last month but I don't know what went wrong. He'd schooled well enough at home but must have had a fright or something as he was getting into the bottom of his hurdles. That run was too bad to be true and I'm sure he's better than that.
Eyes Right
4f Passing Glance – Call Me A Star
Hamer and Richardson
02410-4
RPR 112h
She won a Southwell bumper impressively in March. We started her off in what was in all probability a high-quality mares' novice at Newbury the other day; I liked the way she stayed on for fourth and she'll come on plenty for it. I think a lot of future winners will come out of that race and I hope she's one of them.
Fidux
6g Fine Grain – Folle Tempete
Axon LXVIII
003-U11
RPR 139c OR 142c
Grand little horse. I wasn't sure how he would take to fences but he was excellent from day one and is two from two. Those wins were gained in the summer and he's had a break since; when he starts again, towards the end of the month, he'll find life tougher as he'll be carrying penalties in novice chases where the competition is hotting up, and he needs another run to qualify for the good handicaps.
Fuseau
4g Barastraight – Monepopee
Michael Rembaum and Michael Tuckey
245-2
RPR 116h OR –
I like him. He had decent bumper form, although he was probably over the top when beaten at Huntingdon on his third start. It wasn't ideal starting him off over hurdles in that very testing ground at Plumpton the other day but what I liked was the way he stayed on. He'll come on plenty and will get 2m4f when we want him to, so provided I manage to find the right race I hope to see him go one better.
Galileo Silver
4g Galileo – Famous
Walters Plant Hire and Potter Group
2-841 (Flat form)
RPR 86 (Flat)
If everything clicks he could be very good. A stayer on the Flat, who loves soft ground, he was finding conditions too quick so I ran him on the all-weather in July and he won nicely. Having given him a break I didn't get him back early enough because I'd have loved to have run him on the Flat on turf again before our attentions switch to hurdling. He's not flash at home, virtually horizontal a lot of the time, but he's starting to look pretty useful and seems the type who will improve with experience, like he has done on the Flat.
Good Man Pat
6g Gold Well – Basically Supreme
David Sewell
P/313P5-
RPR 149c OR 137c
Made mistakes in the Close Brothers Handicap at the Festival and jumping problems resurfaced next time at Sandown, but he was suffering from sore shins last season and was hard to keep right. They haven't been a problem this autumn so I hope he's grown out of that, and he was ready to run when I wasn't 100 per cent happy with him last week. We'll re-group and aim to follow up last season's Plumpton win, over 2m4f or 3m.
Group Stage
3g Maxios – Good Hope
McNeill Family and Niall Farrell
1
RPR 98
Got his hurdling career off to a winning start at Ludlow last week; he'd failed to win in four starts on he Flat this year, but I made a bit of a mess of things and he got badly jarred up on firm ground at Windsor in July. He's gained plenty of confidence and is up to winning again.
Hacksaw Ridge
4g Stowaway – Erins Lass
Incipe Partnership
P-1(ptp)6
RPR 103h OR –
Likeable individual, who made a satisfactory jumping debut at Kempton last week; being an Irish point winner he should stay well so we could step up in trip next time.
Harambe
6g Malinas – Crystal Princess
Niall Farrell and Friends
44112-71
RPR 139h OR 137h
I thought a week ago we might not make the Greatwood as he'd had a minor blip the week before last. But it was nothing serious and he got up to win a terrific race. He needed his comeback run at Chepstow last month, as a lot of mine were at that stage. Shouldn't go up much in the ratings and is likely to head to Ascot next month for their big handicap hurdle just before Christmas. He's going to make a gorgeous novice chaser next season."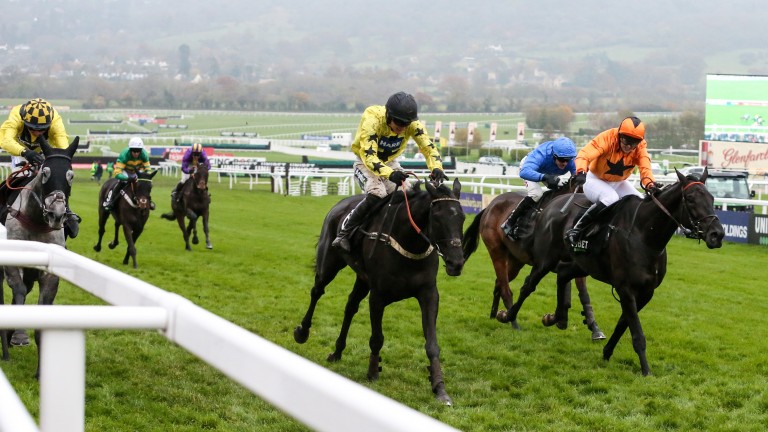 Heart Of A Lion
4g Yeats – Lady Secret
JP McManus
1
RPR 108b
I hope he's good. He's not really a summer jumper but having suffered a setback last winter I was desperate to get a run into him before turning him away. So we took him to Southwell for a bumper and he bolted up from a pair of subsequent winners. Having done his pre-training at AP's he only been back here a few weeks and won't be out until around Christmas. We'll stick to bumpers this season.
Hostile
5g Malina – Skew
Alan King
2-
RPR 115b
Half-brother to old Valdez. He was a playboy last season and was just larking around for most of his debut in a Warwick bumper, but when the penny did start to drop he took off. He was working away nicely when he had a small problem with his pelvis and has only just started back. He'll have another bumper run in the new year.
Jaboticaba
5g Muhtathir – Janiceinwonderland
Owners Group 025
2054-22
RPR 124c OR 120c
Had a late holiday following two runs over fences in May and is about a week off a run. He would have won on his debut at Warwick but for ploughing through the last; Wayne [Hutchinson] sat tight but it cost them the race. He's definitely up to winning over fences and he'll continue down the novice handicap route, nothing fancy. I'm not sure whether he wants 2m or 2m4f.
Label Des Obeaux
8g Saddle Maker – La Bessiere
David Sewell and Terry Warner
3P686/6-
RPR 156c OR 144c
I'm pleased he's back; he got a touch of a leg after running over hurdles at Newbury last season. He's not going to be ready until after Christmas, when we may start over hurdles again for a run or two and go back chasing in the second half of the season. I'm pleased to say his mark over fences, which was was much too high at one stage, has finally come down.
Lisp
5g Poet's Voice – Hora
Mr and Mrs R Kelvin-Hughes
12285-4
RPR 145h OR 145h
The plan has always been to go chasing this season and I think he could be quite exciting. He used too get very lit up and could be extremely free first time out, so we ran him over hurdles at Ascot to take the freshness out of him and he settled much better usual before staying on well. Since the day we first schooled him over fences in the spring he's always been good, and after delighting me last week we may start off at Warwick tomorrow [Wednesday] in the Highflyer Chase. I'm quite happy to stick to 2m and he's one I'm really looking forward to.
---
Two for the tracker
"I've been very pleased with how Lisp has schooled ahead of his switch to fences and Sheshoon Sonny is one I'm sure will progress over hurdles."
---
Madiba Passion
5g Al Namix – Birsheba
P Mendoza
1/P1(ptp)38- 
RPR 105b
We like this one. He ran a promising third on his first run in a Kempton bumper for us and then disappointed me when I fancied him for a Listed event at Newbury but he scoped badly afterwards. He came in late after enjoying a long break and is near to a run – it could be at Warwick tomorrow or Kempton next Monday. Although he has won two Irish points he's showing us plenty of toe so I'm happy to start him off at 2m and work up to 2m4f, but he's not working like a three-miler.
Major Dundee
4g Scorpion – Be My Granny
Trevor Hemmings
10
RPR 105b
Won his bumper at Southwell in May, the form of which probably didn't amount to a great deal, and it was my fault he finished only tenth at Newbury the other day as he'd come back in late and wasn't ready. He'll come on for the run and hurdling will be his job now.
Midnightreferendum
6m Midnight Legend – Forget The Ref
Robert Abrey, Ian Thurtle
71441-9
RPR 126h OR 123h
The combination of 2m6f on soft ground found her out on her reappearance at Wincanton this month; Tom [Cannon] looked after her when she was beaten. She's a mare who usually comes on quite a lot for a run, which is surprising as she doesn't carry a lot of condition. She should be able to win another handicap hurdle and while we try to achieve that aim chasing will be on hold.
Midnight's Gift
3f Midnight Legend – Giving
Pitchall Stud Partnership
1
RPR106h OR –
Has come off the Flat, where she won a maiden in September. I had to be pleased with her winning hurdling debut at Fakenham; she battled on well and will have learned plenty from it. The aim is to take her to Aintree next month to see if we can sneak a bit of black type.
Millstone
5g Alkaased – Stoney Path
Mrs S Welch
53-
RPR 105b
This one has been a slow learner but he could turn out okay. Showed nothing on his debut but stepped forward quite a lot at Huntingdon. I'd like to give him another bumper run just to sharpen his mind, then we'll go jumping.
Mr Pumblechook
5g Midnight Legend – Definitely Pip
David Sewell
21646-4
RPR 126h OR 127h
Started last season very promisingly over hurdles, running a good second at Newbury and winning at Plumpton, but he suffered a bad bout of colic and disappointed afterwards. He's fine now and there was a lot to take out of his reappearance this month back at Plumpton; if anything he travelled too well, running with the choke out, and if we can build on his fourth place there a handicap hurdle should be within his range.
Mystical Clouds
6g Cloudings – Silent Valley
Trevor Hemmings
33/1F23-
RPR 122h OR 127h
Goes novice chasing and I've been pleased with his schooling. Not a lot went right last season. He struck into his near-fore at Kempton last January; thank God he was wearing boots or else we might have lost him. The injury held him up and he came back in late, but from what I can see at home he looks to be enjoying fences so I've got to be hopeful.
Nebuchadnezzar
4g Planteur – Trexana
Top Brass 2
244-2
RPR 121h OR 122h
All things considered there were plenty of positives to take out of his handicap hurdle second at Sandown nine days ago. The testing ground certainly wouldn't have suited him, nor did the trip of 2m; what he probably wants is 2m4f on a decent surface, and when he gets those conditions he's more than capable of winning over hurdles.
Notachance
5g Mahler – Ballybrowney Hall
David Sewell and and Tim Leadbeater
3351-21
RPR 132c OR 121c
Big horse, very likeable. I always thought he'd improve for a fence and it certainly looked that way when he jumped away grand on his debut at Southwell last month before being beaten on the nod. He made amends when putting up a good performance to win at Exeter last week, where the galloping track suited him. This horse is all about stamina and I hope there's more to come from him.
---
Dark horse
On To Victory
5g Rock Of Gibraltar – Clouds
Of Magellan
HP Racing On To Victory
4/28870- (Flat form)
RPR 108 (Flat)
He's starting to look exciting. From his rating you can see he was pretty good on the Flat when trained by Eve Johnson Houghton, though he had a reputation for being a bit of a playboy, and then he got a touch of a leg so he's been off for more than a year. He's only done two or three bits of fast work but they've been very good and he's a natural at his hurdles. We schooled him over 12 flights last week and he was extremely accurate, so he should be out sometime next month. He loves soft ground, he stayed really well on the Flat so there's an awful lot to like about him.
---
Our Power
4g Power – Scripture
Walters Plant Hire and Potter Group
21494-6
RPR 132h OR 133h
Was pretty consistent in his first season over hurdles; he was staying on at the end of his races so we'll probably step him up in trip to 2m4f. He was slightly disappointing in the four-year-old handicap hurdle at the first Chepstow meeting but that came at a time when mine were needing the run. We've been held up a bit as he had to miss ten days with a pulled hamstring but he'll be out again soon.
Outonpatrol
5m Stowaway – Burnt Oil Babe
McNeill Family and Niall Farrell
317-82
RPR 106h
Needed the outing quite badly when having her first run over hurdles at Chepstow but there was a lot more to like about her next effort at Plumpton where she stayed on nicely. I think she can improve again so we'll build on that, sticking to mares' races.
Perfect Predator
4g Passing Glance – Cosmea
Kingston Stud
7212-
RPR 123h
I'm pleased with this one. He showed progressive form in his bumpers last season and did everything right on his hurdling debut at Hereford this month bar win. The winner, Olly The Brave, is probably okay so I was happy enough with that. Like last season, I'm sure he'll improve with experience.
Rebel Royal
6g Getaway – Molly Duffy
Jerry Wright, Martin Walker and Tony Hughes
20F7-61
RPR 125c OR 127c
Jumped super round Huntingdon when making a winning chasing debut last month. He's essentially a good-ground horse so all this rain about doesn't suit him and we may be heading north to somewhere like Ludlow or Doncaster in search of a decent surface. Was due to run again last week but didn't over-please me in his work a fortnight ago so we'll wait a bit longer.
San Rumoldo
4g Malinas – Ancora
JP McManus
1-0
RPR 102b
Won his Southwell bumper well in the spring. When he reappeared at Ascot the other day it was the first time he'd encountered soft ground and while I'm not saying he won't act on it I don't think he had a clue what to do. So although he was disappointing a second bumper run will have helped sharpen him up and I know he's better than that. He'll come on plenty and go over hurdles now.
Scarlet Dragon
6g Sir Percy – Welsh Angel
HP Racing Scarlet Dragon
29/154-1
RPR 140h OR 142h
He's in grand order and I hope I've finally got the hang of how to train him. He won that Listed handicap at Market Rasen very nicely; I thought going up 10lb was plenty, but then the third horse, Gumball, has come out and won so the form looks good. It's a shame he missed a run in the November Handicap, so we'll go straight for the Gerry Feilden now, which has always been one of his targets. He's a horse who doesn't want deep ground so we won't abuse him during the winter.
---
Star quality
Sceau Royal
7g Doctor Dino – Sandside
Simon Munir and Isaac Suede
1/14232-
RPR 169c OR 164c
It had always been always the intention to bring him back in the Shloer Chase, like 12 months ago. Since he came back we've had a lovely clear run with him and he's in grand order. But it would have been a waste of time on that ground at Cheltenham; he loves good or good to soft, and he'll act on soft, but not the heavy we had at Sandown for the Tingle Creek last season; that was awful. We'll now start off either in the Tingle Creek or the Peterborough at Huntingdon.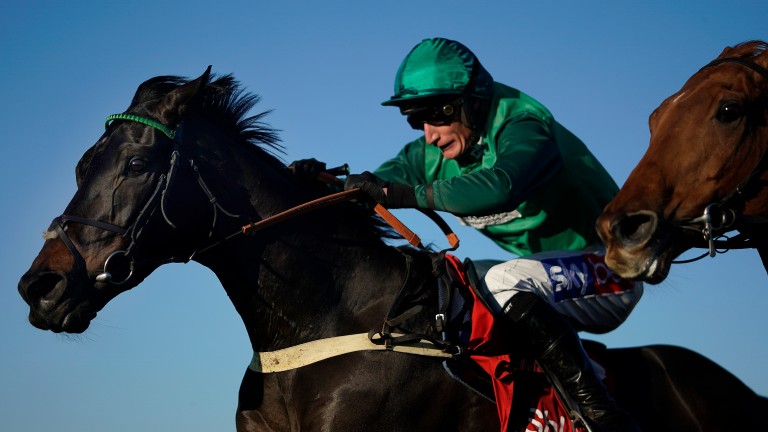 I know he's never run beyond 2m1f but I'd love to try him at 2m4f at some stage. He's given us some great days and I must admit for a few moments in the Champion Chase I really thought we had Altior, but then Altior did what he always does. It's easy to forget he's only seven, so I hope there are more good days ahead.
---
Race in focus
Alan King won the Gerry Feilden, nowadays known as the Ladbrokes Intermediate Limited Handicap Hurdle, in 2016 with Who Dares Wins and Lisp finished runner-up 12 months ago. He's targeting the classy Scarlet Dragon at this year's renewal on November 30.
---
Senior Citizen
6g Tobougg – Mothers Help
McNeill Family
136406-
RPR 128h OR 125h
He's been schooling away nicely over fences for some time and as he's a big, strong sort I've been looking forward to getting him started in a 2m4f novice handicap chase. However, he's just on the back-burner at present having scoped badly a couple of weeks ago.
Sheshoon Sonny
4g Youmzain – Minnie's Mystery
McNeill Family and Niall Farrell
421-3
RPR 105h
Showed progressive form in his bumpers, improving with every race, and I think it might be the same over hurdles. Ran well enough on his debut at Stratford where he probably found the track on the sharp side; he was a bit careful at some of his hurdles, causing him to lose the odd length. He'd appreciate a more galloping track and being a heavy horse he'll always like a bit of juice in the ground.
Smith's Bay
6g Midnight Legend – Takotna
Ian Payne and Kim Franklin
15/65-12
RPR 125h OR 125h
Raced a bit too keen in his early days but is more settled nowadays and ran two good races in novice hurdles earlier in the summer. We gave him a late break so he's only been back just over a month. He stays a novice for the whole of this season and I feel there's more to come.
Talkischeap
7g Getaway – Carrigmoorna Oak
Charles Dingwall
21251-3
RPR 160c OR 157c
Everything fell right for him when he won the bet365 Gold Cup in the spring. As everyone knows he's a good-ground horse so he hated it back at Sandown the other day, when he was never travelling or jumping like he can and finished tired. Tom [Cannon] was concerned about his breathing and following an investigation by the vet he's going to have his wind tidied up so won't be back until after Christmas. Charles [Dingwall] is keen to go for the Grand National so we'll work back from that. The ground will determine where we go with him; he's a very small horse – saddling him next to Santini the other day they were like Little and Large!
---
Star quality
The Glancing Queen
5m Jeremy – Glancing
Dingwall, Farrell, Hornsey and Murray
1/1351-
RPR 121b
Had high-class bumper form and she's very, very good, but she's currently way behind the others. She was just taking the odd lame step and we couldn't find anything wrong on x-ray, then a splint popped out. It was ever so slight but you don't take any risks with a mare like her. She's absolutely fine now but won't be ready until Christmas or the new year; she should be worth the wait and I hope she translates her class from bumpers to hurdles. She's so good she could win a decent race on the Flat if we wanted to but I don't intend going down that route.
---
The Olympian
3g Olympic Glory – Basira
JP McManus
221- (Flat)
RPR 84f
Interesting prospect for juvenile hurdles. He is lightly raced on the Flat, a 10f maiden winner at Newmarket as a two-year-old, and I'd expect him to improve with experience over hurdles. Is not too far off a run.
Timoteo
6g Diamond Green – Goldnella
Million In Mind Partnership
87511-8
RPR 142c OR 133c
The winner of two chases in quick succession in the spring, he's one of those horses who wants decent ground but, having come back from getting a leg you can't risk him on firm. The ground was too soft, plus he got cannoned into on the rails and was down on his knees, at Stratford last month. He'll bounce back but we need a bit of time.
Valdez
12g Doyen – Skew
Riverdee Stable
P432-81
RPR 159c OR 142c
His win at Hereford last week gave us all a huge thrill and I've never seen a reaction from the staff like it. He's rising 13 but still loving life; I know he hadn't won for nearly five years but he'd been showing all his usual zest at home and I knew the engine was still there. His big objective now is a veterans' chase at Leicester in early December.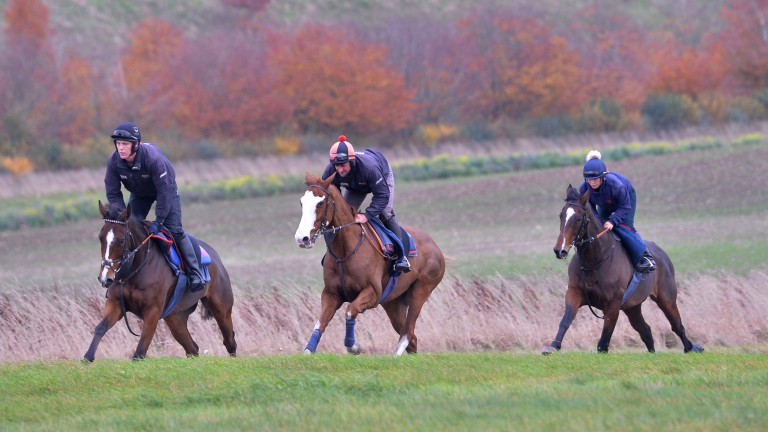 Who Dares Wins
7g Jeremy – Savignano
HP Racing Who Dares Wins
033/353/
RPR 151h OR 148h
Wonderful horse and we're very excited to see what he can do over fences. He's taken us to some great places on the Flat this year; the Northumberland Plate was a memorable day and he ran a super race in the Group 1 at Longchamp on Arc weekend. He's been impressing us with just how fluent and agile he's been in his schooling and he was lightning again last week. A couple more pieces of work and he'll be ready, so we could start at Kempton next Monday in a 2m2f novice chase.
Wynn House
4f Presenting – Glorious Twelfth
Rupert Anton
1-2
RPR 101b
Uttoxeter bumper winner and I'm really pleased with her. I know she got beat on her return at Warwick but it was a good comeback. She's being aimed at the Henrietta Knight bumper at Huntingdon on Peterborough Chase day, then she'll have a break over the winter and come back for those valuable mares' races in the spring.
---
Expert view
It's increasingly hard to compete at the top level of the jumping ranks without the patronage of the top owners, and while Alan King is supported by the likes of JP McManus, Isaac Souede and Simon Munir and the McNeill Family, he's not blessed with a plethora of Grade 1 horses anymore.
That has never stopped him competing at the top table under either code though, and in The Glancing Queen he looks to have a mare who will be a leading fancy at all the festivals come the spring.
She was unlucky not to finish a good few lengths closer in the Cheltenham bumper and hacked up at Aintree afterwards. No doubt she will go down the mares route but there won't be many better British-trained novice hurdlers with anything like her potential, and having won a point-to-point, jumping shouldn't be any sort of issue.
The hugely under-appreciated Sceau Royal is back for more and if Altior does take the step up in trip in his stride and takes the Gold Cup route, he will be hard to kick out of the frame in the Champion Chase again. He is such a brilliant jumper that on good ground he's a match for any of the other two-mile chasers.
As you would expect from a yard that has become a burgeoning Flat operation as well, it's with the novices that King is especially strong this season and it will be fascinating to see how the Northumberland Plate winner Who Dares Wins gets on over fences.
Described as 'lightning' in a schooling session by his trainer recently, there won't be many – if any – 107-rated Flat horses going novice chasing and there will be plenty more to come from him at three miles too.
Don't forget he's been third and fifth in two Coral Cups off marks in the high 140s and his Flat form this year has been his best yet. RSA Chase perhaps?
Then there's Lisp, who was always a bit keen over hurdles but still was good enough to finish fifth in the County Hurdle last season. He is not that dissimilar to Sceau Royal in profile and his schooling is said to have been excellent too.
I'm not sure Fidux will quite be in Lisp's class but he's already shown a prowess for fences and I could see King aiming him at the Grand Annual and the Red Rum at Aintree.
Those three will be familiar names to racing fans but one who is still under the radar is Deyrann De Carjac, who has looked a totally different beast since sent chasing. He should improve again when upped to three miles plus and he's such a good jumper that King could well go down the handicap chase route with him.
Of the hurdlers it is interesting to see that On To Victory is fit and raring to go. He's a good stayer who likes soft ground, so if King can get him back to the sort of form that saw him reach a rating in the 100s on the Flat, he will be an interesting novice hurdler.
The final word has to go to Harambe, who overcame a troubled preparation to win the Greatwood on Sunday and there should be more to come from him when he steps up in trip. I can see him being a leading fancy for the Coral Cup come March.